Noul echipament inovativ e-Videns, prezentat distribuitorilor Polonezi
În Ianuarie 2019, a avut loc prima prezentare a echipamentului inovativ de testare a vehiculelor, e-Videns, în orașul Lodz, Polonia. La eveniment au participat peste 30 de specialiști din domeniu, precum și reprezentanți ai distribuitorilor DENSO.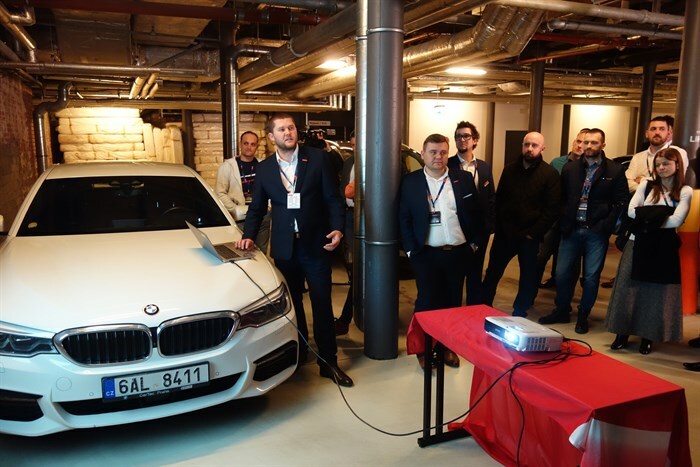 The first presentation was conducted by Oscar Eerland from DENSO, a coordinator of projects related to specialist tools. Oscar explained when and for what purpose e-Videns could be used, the principles of the tool and demonstrated the various stages of vehicle inspection. He also discussed e-Videns reports and answered the participants' questions. Guests then had the opportunity to test the device themselves – DENSO prepared five stations, where vehicles were connected to e-Videns and detailed inspections were undertaken. The event concluded with a further question & answer session.
"e-Videns is a new solution we provide for garages. I'm convinced it will bring more transparency in the car inspection process and will also help to establish a much closer relationship between mechanics and drivers. In the long-term, e-Videns will help ensure there will be more reliable cars on the roads, leading to a safer environment for drivers, passengers and pedestrians plus it will contribute to the preservation of the planet, which is a part of the DENSO Long-term Policy 2030" – Richard Rybáček, Regional Manager Eastern Europe.
The new product, which will soon be available in Poland, provides an innovative vehicle inspection method combining Driver Interview, System Scan, Visual Inspection (walk around) and a complete engine health check with an intuitive, user-friendly digital platform that allows a technician to objectively evaluate the health of a vehicle. Using reference parameters, e-Videns monitors live data from the running engine to identify abnormalities and pre-empt issues – this functionality is unique to DENSO.
"The big advantage is the fact that the tool is easy to use and guides mechanics through the end-to-end health check, so even a less experienced mechanic can use it – larger workshops can deploy a junior mechanic to carry out a test, who can then provide valuable data to the skilled mechanic" - Tereza Čechová, Marketing Manager Eastern Europe.
DENSO e-Videns breaks down the barriers between workshop and customers by inviting the motorist to be part of a previously impenetrable process, offering unparalleled levels of transparency and greatly enhancing the likelihood of a swift sign-off on required and advised work.
Customer clarity is further enhanced by the tool's ability to uncover 'hidden' issues which require attention and pre-empting faults that are about to occur, saving the car owner both time and money. On completion of the inspection, the system also allows workshops to deliver a simplified, colour coded, easy-to-read report to the car owner and the reports are accessible through the cloud. Overall, car owners will enjoy a more transparent experience and an improved service.
Informații despre e-Videns sunt disponibile online: www.densoevidens.com