Packaging update for DENSO Spark Plugs
New caution added to single spark plug boxes, plus a packaging change for bulk boxes.
DENSO is applying updates across its full spark plug range to streamline bulk packaging formats and make customers aware of safety restrictions and installation best practice. In addition, customers will be able to access to more detailed product and disclaimer information online via a QR code.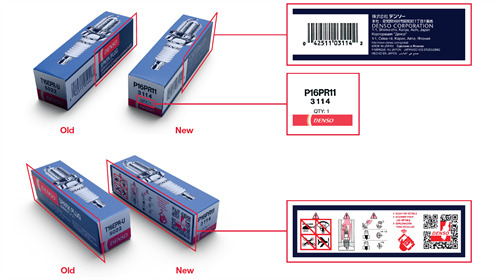 New caution for single spark plug boxes
The new caution will be applied across the full DENSO Spark Plug range: Nickel TT, Platinum, Iridium, Iridium Power, Iridium Tough, Iridium TT and Iridium Racing. The change will only affect single spark plug boxes, packs of 4 and 10 will remain unchanged. The updated design will be implemented throughout 2018 and during this period, both old and new packaging will be in circulation.
The new caution features 3 key messages:
DENSO Spark Plugs cannot be used for aviation
Installation advice
To access more information, use the QR code

The QR code links to more detailed spark plug cautions. Once scanned, the user will be required to download the DENSO Wave QR Code Reader. Using this scanner, the QR code links to the relevant information on the DENSO global website, where the preferred language can be selected.
Bulk packaging changes
These changes apply to the 96 pcs box (24 x 4 pack) and the 100 pcs box (10 x 10 pack). Currently, these spark plugs are packaged in white or brown boxes of varying sizes. In 2018, these different boxes will be consolidated into a brown box with a white label. The contents will remain unchanged.
Safety and transparency
Gilbert Couvert, Product Manager for Spark Plugs at DENSO Europe Aftermarket commented: "At DENSO, we're committed to the safety of our customers, which is why this new caution is so important. And we welcome the opportunity to provide more detailed information online, which is easily accessed via our QR code. We also want to be as transparent as possible by clearly communicating changes such as the new bulk packaging boxes, so that customers are reassured that they are still buying the high quality DENSO product they expect, even if the box looks slightly different."
For more installation advice, visit our spark plug installation webpage.
Further details of DENSO's spark plug range are available online at denso-am.eu, on TecDoc or from your local DENSO Aftermarket contact.