DENSO EUROPE new thermal product groups: resistors and HVAC actuators
DENSO is thrilled to announce two new thermal product groups for DENSO EUROPE — resistors and HVAC actuators. These latest additions provide a natural extension of the already robust thermal range for the automotive aftermarket.
Consisting of 9 actuator part numbers and 59 resistor part numbers, the new products provide 1,719 applications, linked to 159 OE part numbers, and extend to popular car makes and models throughout Europe such as the Fiat 500, Fiat Punto, Opel Corsa D, Opel Vivaro, Renault Clio, Citroen C4 Picasso and Dacia Lodgy. The part numbers are available as of January 2018.
"Introducing these two new OE-quality product groups to the aftermarket right now makes sense as it ultimately allows workshops greater control and enables efficiency," explained Richard Busscher, Product Manager A/C, DENSO. "For example, if a resistor needed to be replaced, the mechanic previously may have had to replace the entire cabin blower, even if the blower was still operational. Now, garages can focus on only replacing the necessary parts."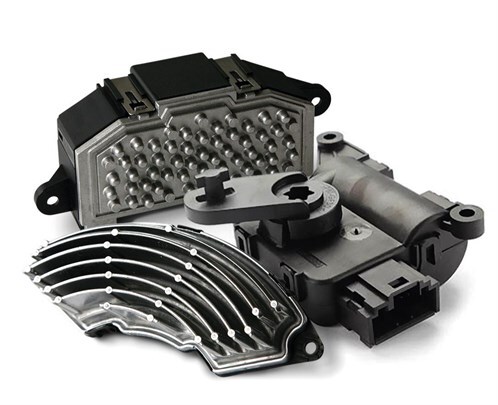 DENSO has long been a market leader in thermal systems with continued dedication to translating our expertise and manufacturing techniques directly to the aftermarket. With over 59.5 million vehicles in operation featuring original DENSO resistors and actuators, these new product groups meet a real aftermarket need, enabling workshops to offer OE quality parts for even more vehicles.
New resistors and HVAC actuators
DENSO resistors and actuators are all OE-quality and exact fit. Once replaced, the complete HVAC system will maintain original operations and safeguard optimal performance of all other related parts.
Always putting quality first, DENSO specially engineers these parts to withstand the heavy shocks and vibrations that occur during daily operation. The OE-quality parts also mean less down time for the customer whilst ensuring the overall engine cooling and AC system performs just as it was originally designed.
Resistor
59 OE-quality resistor part numbers have been added to the thermal range. The resistor controls the speed of the cabin blower fan or radiator cooling fan. For the cabin blower fan, this means the resistor is able to control the speed according to the need and setting of the driver.
HVAC Actuator
9 OE-quality actuator part numbers have also been added to the range. Actuators work to control the airflow within the HVAC, regulating the air-flow mixture of hot and cold air, as well as controlling the flow to the needed position in the passenger cabin.
Find out more
Further details of DENSO's thermal range are available online, on TecDoc or from your local DENSO Aftermarket sales contact.