DENSO HVAC: top technology, top quality, top of the mountain!
At their latest A/C Summit, DENSO offered 15 lucky customers and distributors the chance to learn about DENSO HVAC technology at the top of Germany´s highest mountain, the Zugspitze.
15 DENSO compressor and condenser customers and distributors won a place at the 2017 A/C Summit, where they not only had a tour of DENSO's HVAC testing facilities, but got the opportunity to learn from a range of DENSO experts about the development of HVAC.
The three customers, who had purchased a compressor and condenser and entered the prize draw, travelled with the distributors from whom they'd purchased their product to DENSO's engineering center in Eching Munich.
From here, both the customers and the distributors enjoyed a whole weekend of tours and seminars about the development of HVAC parts and systems.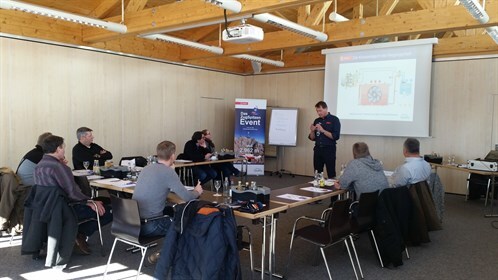 Development of DENSO's HVAC parts and systems
Recently expanded in 2015, DENSO's Eching engineering center has a full testing facility for car air-conditioning parts. These facilities include climatic chambers, acoustic chambers for components and vehicles, component test benches and a state-of-the-art wind tunnel.
Within these facilities, DENSO prototypes can both be manufactured and tested on-site, along with preparation work for vehicles and components.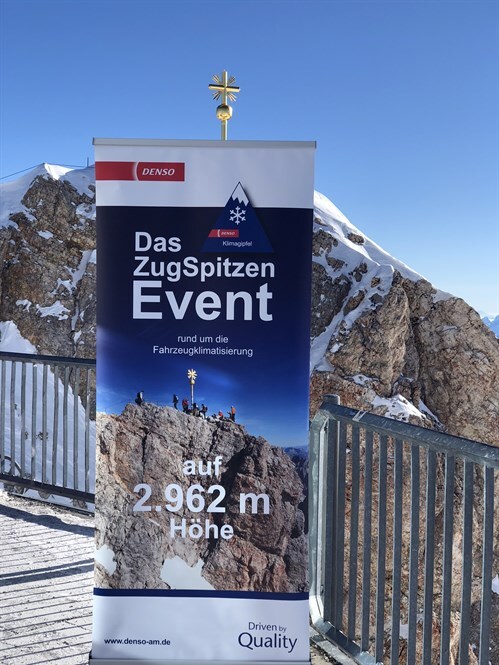 After their arrival in Eching, the group took a full tour of this facility, including the wind tunnels, acoustic chambers, workshops and 3D printing laboratories. Here they saw the latest prototypes being built and tested, as well as having an insight into the rigorous manufacturing and testing process that DENSO AC parts go through.
One of the customers that attended, Torsten Schumann, an owner of his own workshop in Lahr, Germany said that seeing these facilities gave him an interesting insight into the products that he buys.
"In all the research and development departments for thermal components that we visited we saw that DENSO is committed to delivering the highest quality," said Schumann. "They do this with a lot of technical development and precise work."
Ewald Röschel, owner of Auto Röschel in Wernau was impressed by the attention to detail: "It is surprising, what they pay attention to: heat, cold, noise, the emergence of e-vehicles… these are new challenges for A/C systems. The wind channel and the acoustic chambers were very impressive things. No car owner has ever considered the possibility of noise generation from the A/C system!"
DENSO experts discuss air conditioning technology
Across the two days, the group were also given talks on the development of HVAC products and systems, including an introduction to DENSO's systems from Nico Carucci, Regional Manager DACH at DENSO Aftermarket and a technical talk from Air Conditioning expert Andreas Lamm.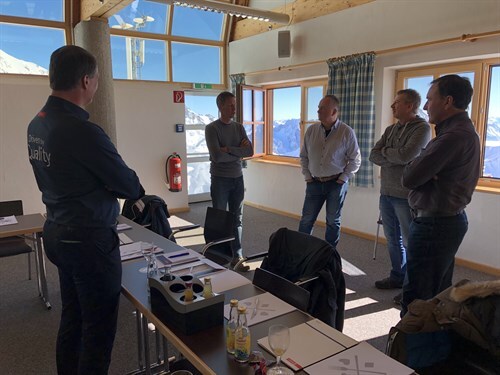 This talk was held in front of the snowy peaks of the Alps at the Olympic jump-skiing facilities at Garmisch, Partenkirchen, where Lamm led a range of discussions, from A/C servicing to the future development of A/C systems.
Carucci said that the summit, and these talks in particular, are important for DENSO Aftermarket, as they open up discussions between DENSO and customers about what they need from their products and how DENSO are developing these.
"As the market leader, the event not only has pronounced our continued commitment to innovation within the industry," said Carucci. "But also underlined our position of being a reliable, future-oriented partner to the aftermarket and approachable and available for our customers.
"This includes, first and foremost, thanking our workshop customers for choosing DENSO original parts when completing work on the refrigerant circuit. Therefore we believe it is a matter of course for us to express our close ties and commitment to our distribution partners."
Find out more
Further details of DENSO's HVAC range are available online, on TecDoc or from your local DENSO Aftermarket sales contact.