DENSO is fronting the move to hybrid with its ever-evolving parts
The increasing popularity of hybrid and electric vehicles has required parts manufacturers to evolve existing technologies and develop entirely new ones in order to offer the most innovative, efficient and reliable parts for these engine types. As such, DENSO has made revolutionary progress with rotating electric machines, as well as compressors and sensors.
The automotive industry has seen an increasing upward trend in the electrification of vehicles, with the number of electric and plug-in hybrid cars on the world's roads surpassing 3 million in the last year. These numbers are predicted to increase exponentially as more initiatives are put in place to increase use of sustainable mobility solutions. The need for automotive manufacturers to be forward-thinking has never been greater.
DENSO is dedicated to technological development and has been at the forefront of hybrid innovations since the electrification of vehicles began. An ever more varied catalogue of part numbers, and a host of DENSO World First Technologies are testament to the progressive DENSO approach.
Since introducing an E-Compressor with integrated inverter for hybrid cars in 2005, there have been several DENSO breakthroughs which have contributed to the rapid increase of electrified parts. An integrated hybrid control computer, battery monitoring unit, DC-DC converter, superior battery cooling system and high-output power control unit (PCU) are all evidence of DENSO's innovative stance on electrification.
As well as pioneering the increased handover from traditionally fuelled engines to hybrid, DENSO is also responsible for the continued improvement and evolution of parts for hybridised powertrains.
The evolution of rotating parts
As a replacement for conventional starters and alternators, DENSO has crafted a motor-generator (MG) stator for use in hybrid vehicles.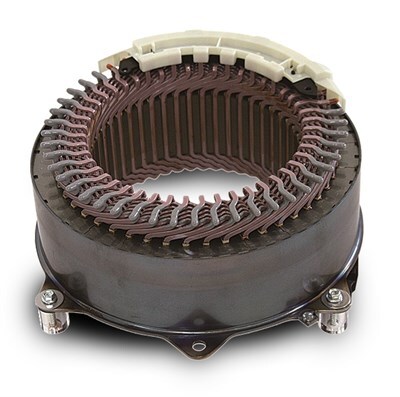 The MG component performs several functions including starting and assisting the engine, generating electric power and driving the axles.
Several significant developments have already been made with this range of specialised products. Drawing on the experience used to create the world leading segment conductor (SC) alternator, DENSO developed a completely new MG in its stator coilus.stator for the Prius that is smaller and lighter by more than 20% compared to the previous generation and achieves a fuel economy of 40km/L – the highest in the world.
Creating the e-compressor
DENSO was responsible for the world's first mass-produced electric compressor with an integrated inverter and motor.
Whilst conventional compressors are driven by the engine, making them unsuitable for use in hybrid vehicles, DENSO's e-compressor is driven by an internal motor. This not only makes it applicable to hybrid engines, but it also improves fuel efficiency as well.
In the case of a hybrid power train it is possible to run air conditioning functions both when the engine is idling and switched off, thanks to the power provided by the internal motor of the e-compressor. This represents a significant advantage over traditionally fuelled vehicles as it maintains a comfortable cabin environment whilst saving on fuel wastage.
New sensor technology for electrical components
In hybrid vehicles the gasoline engine part of the power train is monitored by standard engine management system (EMS) sensors.
However, there is also the addition of several other sensors specific to high voltage (HV) electrified components. Development of these types of sensors are a direct result of the electrification trend and the rise of alternatively fuelled vehicles.
Electric/hybrid specific sensors include:
Battery current sensor: Detects current flow and monitors the state of the main HV battery charge (SOC)
Rotational angle sensor (Resolver): An indispensable sensor for optimal MG control
System main relay (SMR): High voltage relay for the safety and protection of hybrid system's main power supply – the HV battery
It is clear that the technological advancements made by DENSO have helped to shape the current face of hybrid vehicles.
As the move toward electrification continues, so DENSO's pioneering parts will evolve into new spheres of technology and sustainability.
Click here to find out more about DENSO's innovative hybrid components,

Learn more about DENSO World Firsts here.