Female Pioneers: Mary Anderson and Charlotte Bridgwood created windscreen wipers
The next women to be celebrated in our Female Pioneers series, in conjunction with 'International Women's Day', are the creators of wiper blades, Mary Anderson and Charlotte Bridgwood. Although they worked independently and during different periods, both women majorly contributed to the automotive industry with their inventions.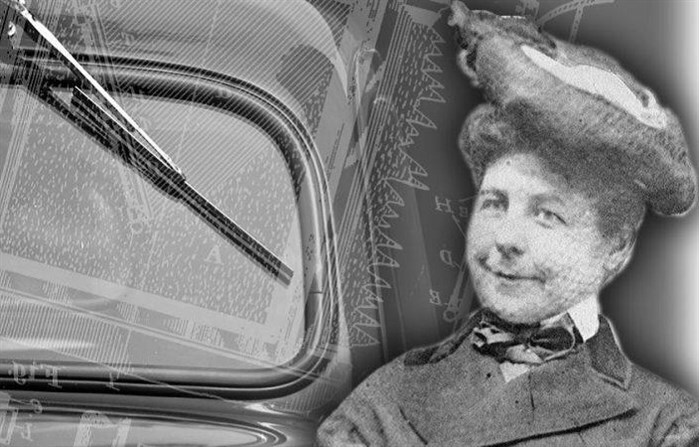 A trip to New York inspired an invention
During a freezing cold day in New York in the early 1900s, Mary Anderson conceived her great idea. She was travelling in a trolley car through the city and sleet was pelting the windshield, so much so that the driver had to keep the windows open in order to see properly and at times stop the trolley completely to clear away the snow.
Mary soon realised that many other road-users experienced similar problems and it was then that the notion of wiper blades came to her. She envisioned a hand-operated device which included a lever inside the vehicle, connected to a spring-loaded arm with a rubber blade which sat on the outside of the windscreen. The lever would have a counterweight to ensure the wiper could remain in contact with the windscreen and once the lever was turned the blade would swipe across the glass, removing snow, sleet and rain. The notion would ensure better safety for drivers, passengers and pedestrians during inclement weather.
Mary Anderson
Mary set to work straight away on her wipers
Once back home in Alabama and full of enthusiasm, Mary employed a designer and local company to manufacture a prototype. Although similar models had been invented previously, Mary's wiper blades were the first that actually worked and so she patented her design in 1903.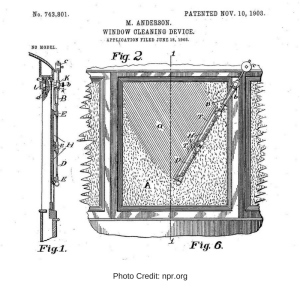 Mary's patented 'Window Cleaning Device' Photo credit: npr.org
Windscreen wipers fitted as standard
However, Mary's wiper blades weren't a hit straight away. In 1905 she tried to sell the rights to her design to a Canadian firm but she was unsuccessful – the industry didn't appreciate their value.
Instead, it was only after her patent expired in 1920 that the automotive industry evolved and windshield wipers based on Mary's basic design were fitted as standard on many cars. Sadly for Mary, she never received the financial rewards for her efforts but that didn't stop her being successful – she went on to be a real estate developer and run a cattle ranch and vineyard in California.
Charlotte Bridgwood
Charlotte Bridgwood, president of the 'Bridgwood Manufacturing Company' in New York, further developed windshield wipers. Taking the original manual design, first introduced by Mary Anderson, Charlotte devised the first electrically-operated automatic wipers.
The invention, named the 'Storm Windshield Cleaner' used rollers instead of blades and was patented in 1917. However, her design was also not a commercial success and her patent ran out in 1920.
Like Mary, it was only after she lost her product rights that it became widely adopted, with her wipers being fitted in cars a few years later, including Cadillacs.
Women finding solutions to automotive problems
Neither women possessed mechanical or engineering qualifications. They simply used their common sense to find a solution to a widespread problem. In doing so they created a device which is still used today, keeping drivers and other road-users safe during bad weather.
SOURCES:
https://autowise.com/10-historical-auto-industry-females/
https://www.npr.org/2017/07/25/536835744/alabama-woman-stuck-in-nyc-traffic-in-1902-invented-the-windshield-wiper?t=1557323436700