TOYOTA GAZOO Racing take victory at Sebring
The DENSO-sponsored TOYOTA GAZOO Racing team has secured a victory at the prestigious 1000 Miles of Sebring endurance event. Taking both the first and second positions in the race, the team extended its advantage in the FIA World Endurance Championship (WEC) for the 2018-2019 season.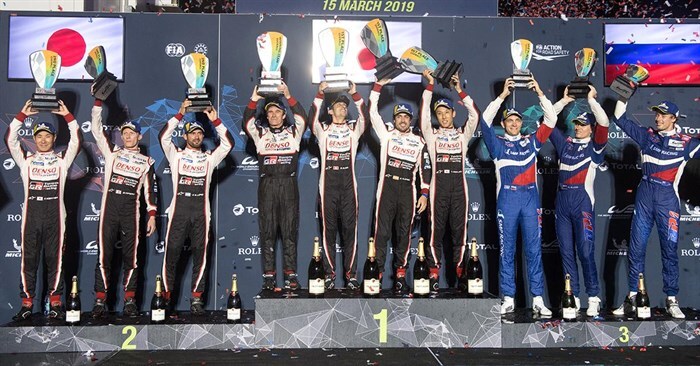 The #8 TS050 HYBRID team consisting of Sébastien Buemi, Kazuki Nakajima and Fernando Alonso, were crowned the winners. Not far behind were the #7 TS050 HYBRID team featuring Mike Conway, Kamui Kobayashi and José María López landing second place, after 8 hours of intense competition.
The event in Florida, renowned for being challenging, was the sixth race of the season and started positively with bright sunshine and warm temperatures. However, by the end of the race drivers were battling lashings of heavy rain and a slippery track.
Driver for the #8 team, Sébastien Buemi began the race in pole position and continued to lead with José María López on his heels in the #7. Two hours in, a short rain shower caused the #17 SMP car to crash badly resulting in a full course yellow, with the safety car having to repair damage to the barriers.
Kamui Kobayashi in the #7 used this brief interim to his advantage, quickly closing the gap further between himself and Fernando Alonso in the #8.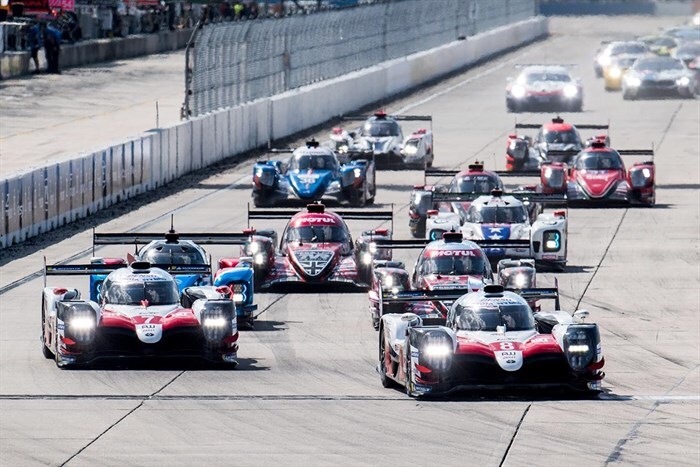 As darkness fell, the TS050 HYBRIDs continued to lead the pack; battling mainly each other for the top spot as the #3 Rebellion trailed three laps behind in third place.
The tense dual continued between the two TOYOTAs until the #7 suffered minor contact with the #90 Aston Martin, which required 4 mins in the pits whilst a change of engine cover and rear bodywork was undertaken. #7 subsequently fell behind the #8 by a lap.
During the final hours of the race the rain came. With only 20 minutes to go, both cars had to quickly stop and change to 'wet' Michelin tyres, however the rain continued to hammer down and so the teams were forced to stop yet again to change to 'extreme wet' tyres.
Visibility and the track surface were compromised, so both teams proceeded with caution, hoping mostly to complete the race safely. Kazuki Nakajima in the #8 kept his cool and brought his car to victory with Mike Conway in the #7 securing second place.
This is the TOYOTA GAZOO Racing team's fifth one-two win of the season with Kamui Kobayashi achieving the fastest lap of 1 minute 41.800 seconds and setting a new race record. Fernando Alonso also accomplished the all-time fastest-ever lap in Thursday's qualifying.
TOYOTA GAZOO Racing leads the teams' World Championship by 53 points with only two races remaining in the 2018-2019 season. The two teams now hope to seal their winning status at the Spa-Francorchamps on 4th May with one race to go.