Evans edges closer in Sardinia as TOYOTA GAZOO enjoys podium finish
While Rally Italy Sardinia saw a podium finish for Sébastien Ogier and TOYOTA GAZOO Racing, it could also go down in history as one of the crucial rallies that took fellow driver Elfyn Evans even closer to the WRC title.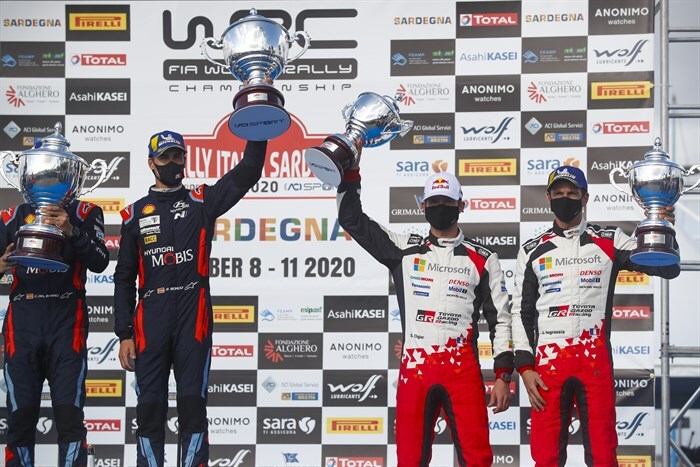 A challenging start
The FIA World Rally Championship made a later-than-usual visit to Sardinia for the sixth round of the 2020 season, Rally Italia Sardegna, on October 8-11.
Strong championship placings meant the TOYOTA GAZOO Racing team had to run on the roads first and second on Friday, making it difficult to fight for the rally victory on Sardinia's sandy gravel roads. But after winning four of Saturday's six stages, Sébastien Ogier and co-driver Julien Ingrassia entered the final day in second place, 27.4 seconds behind the leaders. They managed to close that gap to just 6.1 seconds over the course of the day, enough to claim third place for TOYOTA GAZOO and add another strong points haul towards their bid for a seventh world title.
Someone else picking up points aplenty for TOYOTA GAZOO is Elfyn Evans who, together with co-driver Scott Martin, entered the round with an 18-point lead over six-time world champion Ogier. An impressive fourth-place finish for Evans keeps him in the driving seat for the championship. He now holds a 14-point lead over Ogier going into the final two rounds and, if he holds on to his advantage, will become the first British World Rally champion since Richard Burns in 2001.
Cool customers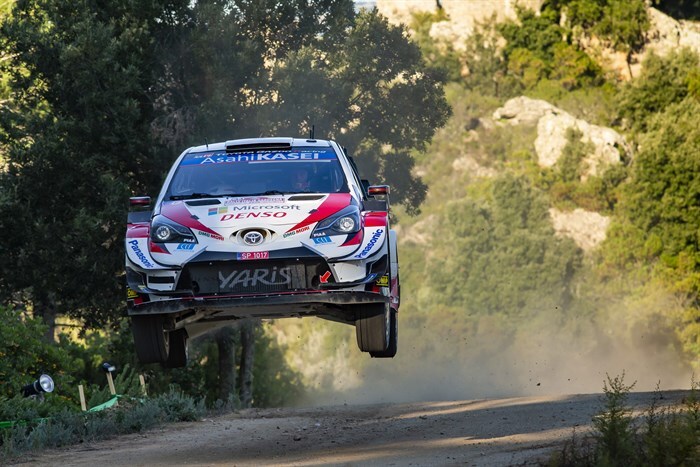 Cooler conditions greeted the drivers on the Sunday morning where a loop of just two stages awaited, to be run twice through the day.
Six-time world champion Sébastien Ogier had done enough on Saturday's final stages to split the two Hyundai drivers, Sordo and Neuville, in the top three. It was Neuville who had the best of Sunday's first stage, edging ahead of Ogier before the service halt. However, Sordo's overall lead was dropping significantly and Ogier found himself just 9.2 seconds behind with one stage to go.
Despite his Hyundai losing two minutes to technical difficulties, defending champion Ott Tanak set an unbeatable Power Stage time during the second stage through the beach-side at Sassari. This enabled him to claim five extra points, keeping him in the title picture with two events to go. TOYOTA GAZOO's Evans and Martin also set impressive times during the Power Stage with the third and fourth highest times, earning them valuable additional bonus points towards the championship.
On this occasion though, Rally Italy belonged to Hyundai driver Dani Sordo, who held off pressure to finish 5.1 seconds ahead of the nearest competitor and claim his second consecutive triumph on the Mediterranean after his dramatic close-finish victory in 2019. The win moved Hyundai up to second on the manufacturer standings, with Evans and Ogier leading from the top for TOYOTA GAZOO.
Next, the series moves on to Belgium for the first time when the Ypres Rally takes place on November 19-22. First held in 1965, the rally is known as a demanding asphalt event on farmland roads lined with ditches. Its WRC debut will also include a final day held around the famous Spa-Francorchamps racing circuit and could well be a vital stepping stone to Evans' championship title.