DENSO wiper blade product development and test procedures
DENSO is a leading original equipment (OE) manufacturer and system supplier to vehicle manufacturers (VMs) globally and a pioneer in the design and development of many product solutions. Its wiper blade programme is no exception, but what makes them so good?
To meet DENSO's strict quality standards, the company's wiper blades – whether destined for OE fitment with a VM or for distribution to the European aftermarket – undergo many checks and a wide range of demanding tests before they are added to the wiper programme. To undertake these tests, DENSO has a special facility in Japan, where the following assessments are conducted, to ensure each new product meets the grade.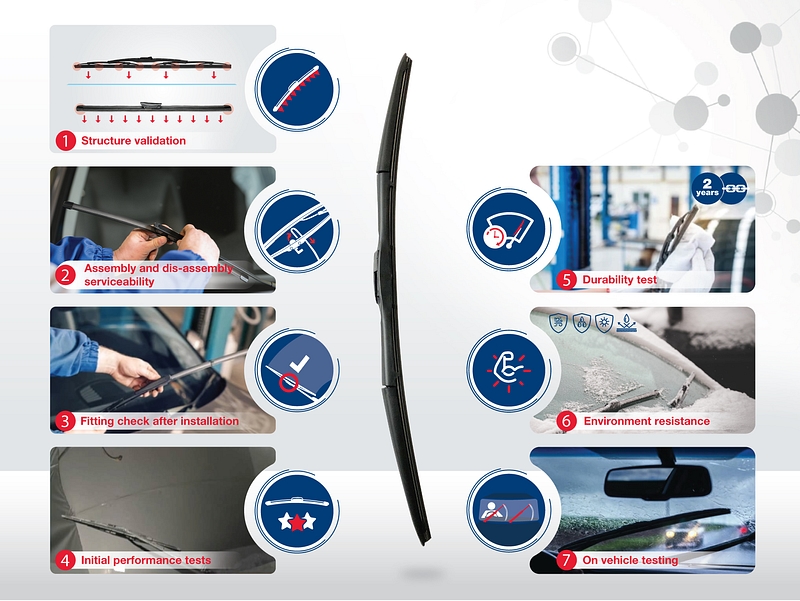 Structure validation
The structure evaluation is basically a visual check to determine the number of fixing/pressure points, in order to achieve equally distributed pressure on the windscreen for fine wiping: the number of fixing/pressure points and interval pitch are determined and what kind of adapter is used, for example whether it's a multi-clip or an OE adapter. In addition, the wiper blade rubber pull-out strength is checked by measuring the force that is required to actually pull it from the frame, which is also an important safety test, as it is crucial that the rubber does not slide off the wiper blade frame under any circumstance.
Assembly and dis-assembly serviceability
In manual operation, the assembly, and conversely, the dis-assembly of the wiper blade on to, and off of, the wiper arm is assessed as to how easily either operation can be carried out. Naturally, neither process should cause any issues for the end user.
Fitting check after installation
After the wiper blades have been attached to the arms and installed on the vehicle, not only verification of the wiping area coverage on the windscreen, but also their geometry, are assessed as it is crucial that the wiper blades do not make contact with the wiper arms, because contact causes irregular pressure distribution and poor wiping of the windscreen, as well as unpleasant contact noise for the driver.
Initial performance tests
During the performance test the following characteristics are evaluated:
Wiping performance: The wiper blades with arms are fitted on a specially designed, real-environment simulation test bench with high and low speed wiping, water spray on and off etc., to accurately assess how they perform on the windscreen under various conditions. To determine if the blades meet DENSO's rigorous standards, wiping performance is assessed based on a five level rating during which they must score at least a three after a durability period of 100,000 wiping cycles.
Noise: A very important aspect is the noise level of the wiper blades during their operation, which must fall within an acceptable level of tolerance.
Chattering: This is simply whether the wiper blade slides smoothly over the windscreen, without any small jumps or judders. To avoid these issues and minimise any uncomfortable noise, fine edge cutting and a low friction coating are applied to the rubber.
Lateral movement: To avoid oscillation of the blade and any associated noise, lateral movement is measured on the arm and must be within the company's set criteria.
Clip Torque: In order to achieve fine wiping and conformity across the windscreen, clip rotational torque is important for variable relation with the arm and must be within the company's set criteria.
Durability test
The durability test checks the performance of the wiper blades after 100,000 wiping cycles, which equates to two years of typical use. During this test, which is undertaken using a specially designed test bench that includes a windscreen, wiper arm mechanism and a rain simulation device, performance is closely monitored because, even after this many cycles, a DENSO blade must be able to guarantee good performance and meet the company's strict standards.
Environment resistance
This is also a very important part of DENSO's test procedure and can be divided into the following headings:
Corrosion resistance: This test makes use of a special piece of equipment called a cyclic corrosion tester or CCT. During this test, over several cycles, salt water of a certain temperature is sprayed onto the windscreen as the blades are continuously wiping and the drying time is assessed, as the temperature is forced to increase, up to 70 degrees Celsius. This process is repeated a defined number of times, all to assess how the blade resists corrosion.
Weather resistance: During a special sunshine weathering meter, or SWOM test, the impact of the sun on both the rubber and the frame, is measured over 200 hours, which simulates years of wear and tear in a relatively short period of time. After this test there must be no serious visible signs of discoloration or chalking.
On vehicle testing
Finally, after all these assessments have been made, the wiper blades will be fitted and used on test vehicles for a prolonged period. This testing is undertaken in several different regions of Europe to monitor their performance under many different conditions, such as in high temperatures in the South of Europe and in extreme, low temperatures, as experienced in Eastern Europe.
This invaluable check provides DENSO with real-life feedback from actual users to assess how the blades perform under all circumstances, over the long term. These testers then complete a special questionnaire, which allows them to give feedback of the real-world performance of the blades when it comes to important subjects such as noise, chattering, wiping efficiency and unwiped areas etc.
Summary
These many and varied assessments, undertaken by following specific principles and under strict conditions, allow DENSO to ensure the wiper blades it designs and develops conform with the company's exacting standards, as applied to all of its premium quality products. As a result, they also provide VMs, such as Ferrari, with the assurances they need to specify DENSO wiper blades as their OE fitment of choice.
These advantages are also transferred to the European aftermarket, which benefits from access to the same high quality solution for the independent repair sector.