Elfyn Evans scoops third career win for TOYOTA GAZOO in Portugal
The TOYOTA GAZOO Racing World Rally Team celebrate three big achievements in this year's fourth stage of the World Rally Championship at the Rally de Portugal. Welsh rally driver and rising star Elfyn Evans claimed victory, his third so far in his career since joining TOYOTA GAZOO Racing, along with co-driver Scott Martin. The team also celebrate their third win in just four stages of the World Rally Championship so far, along with a double podium finish from each of the first four events in the 2021 season.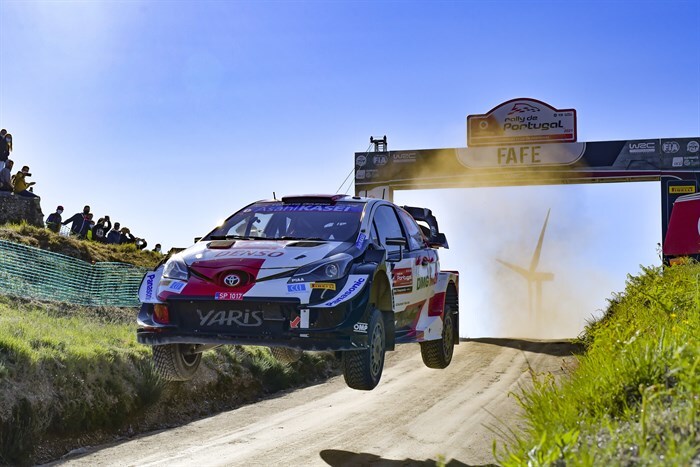 Stablemates Sébastien Ogier and Julien Ingrassia finished third, but maintain their lead the WRC drivers' championship, two points ahead of Evans and extending the team's lead in the manufacturer's standings. This comes following the stellar performance in the inaugural Croatia Rally at the third stage of the 2021 season, where Ogier was crowned the winner.
The inevitable challenge from the start
Following Sébastien Ogier's win in Croatia, the current leader in the drivers' championship had already expressed reservations about leading at the first gravel event of the year, when the FIA World Rally Championship returned to Portugal on 20-23 May.
Along with teammate Julien Ingrassia, the pair recovered well from the disadvantage of running first on the loose gravel on Friday. Ogier managed a respectable third position overall, gaining him three bonus points and a two-point lead in the drivers' championship.
Speaking of his performance, Ogier said, "Today we were focused on securing the third place overall. Three points is certainly better than nothing, and 18 points overall from the weekend is a positive result. We need to keep working and improve the pace for the next rally in Sardinia and see what we can do there, even though I expect it will again be challenging."
Meanwhile, Kalle Rovanperä and Jonne Halttune also suffered setbacks in Portugal that weekend that saw them take 22nd position. On Saturday, the pair had to retire from the race, due to technical reasons, with Rovanperä commenting, "The weekend has been a disappointment. We had many issues and lost some good points from this, but that's rallying sometimes and we just have to continue onto the next one."
However, the TOYOTA GAZOO Racing team were able to return a prepared car for restarting on the Sunday morning where they set the fourth-best time in the Power Stage. Rovanperä added, "Today we had the chance to test some different setups for the car in the first loop to help prepare for the next rallies. After that, we didn't have good tyres for the Power Stage compared to some other drivers. I really tried to push to the maximum that I could, and it was good that we got at least two points."
Driving a Yaris WRC as part of the TOYOTA GAZOO Racing WRC Challenge Programme, Takamoto Katsuta and Dan Barritt just missed out on a podium position, coming in a respectable fourth place. The pair managed a consistent weekend that produced the best result of Katsuta's career to date.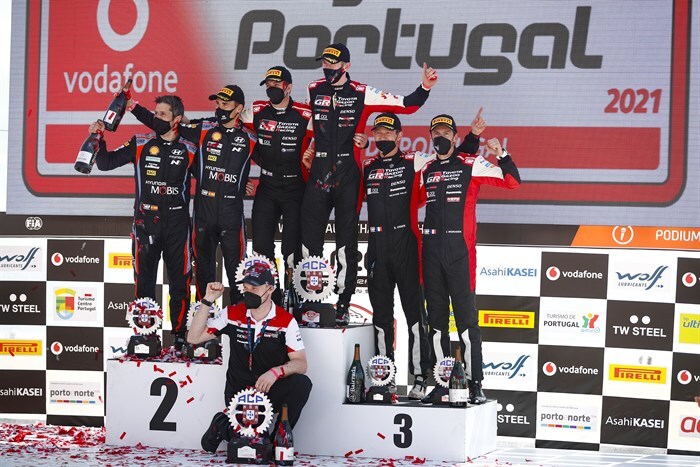 Evans' triumphant victory
Elfyn Evans will want to repeat his success following the Rallye de Portugal. Along with co-driver Scott Martin, Evans was leading by Saturday afternoon following a determined and consistent performance.
Evans also saw success on Sunday. His lead at the start of the day may only have beena narrow 10.7 seconds, but his completed opening test was 8.9 seconds quicker than anyone else to almost double his margin. Later that morning Evans claimed another two stage wins, bringing his tally for the weekend to six. His victory was sealed by 28.3 seconds and is the fourth win of his WRC career, and the third since joining TOYOTA GAZOO in early 2020.
Commenting on his win, Evans said, "Obviously it's a fantastic way to finish by clinching the win. This morning we knew that there wasn't such a big gap to second place, so we had to go out and give it our all. That's what we did, and we managed to set a few good times just to build up a bit of an advantage. In Croatia it was quite painful to miss out, so it feels good to get this one sealed with relatively little drama."
TOYOTA GAZOO Racing World Rally Team return to further gravel stages at the next unmissable WRC event in Sardinia on 3-6 June. The Italian course features fine and sandy gravel on fast and narrow stages, made more difficult by each passing car that leaves dust clouds. It's made even more tricky by the rockier and rutted roads, along with exposed trees and high temperatures that increase the stress on the cars and their tyres.