DENSO tech tips can maximise winter spark plug sales
DENSO, one of the largest manufacturers of ignition products in the aftermarket, explains how good service can maximise spark plug sales during the winter period and beyond
Spark plugs are an essential element of petrol-powered internal combustion engines and the cold European winter months can present workshops and distributors with outstanding sales opportunities for replacement parts.
Degraded spark plugs are one of the leading causes of hard starting, which can have a highly negative impact on fuel consumption and emissions - increasingly essential considerations for many drivers.
Workshops can maximise the peak sales period for spark plugs, by recognising and diagnosing faults early and replacing degraded plugs with high quality, reliable spark plugs, therefore offering improved service and an increased chance of customer retention.
Spark plugs are a vital part of the ignition process, so it's important that they are monitored with regular services and cleaned or changed when necessary. Major causes of spark plug failure include an incorrect air/fuel mixture and worn out plugs, as well as incorrect installation which can lead to failed spark plugs, or even serious engine damage.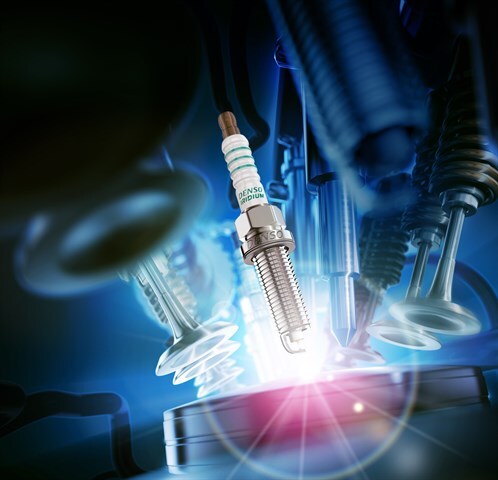 Signs of needing to replace spark plugs could be misfires, increased fuel consumption and bad starting. Spark plugs are generally replaced at service intervals, before signs are noticeable. However the use of alternative or bad fuels can shorten the lifetime of spark plugs.
Gilbert Couvert, Product Manager Spark Plugs at DENSO Europe B.V.'s Business Unit Aftermarket, explains the top tips for correct spark plug installation:
• Use the correct wrench for the hex on the plug, and be careful not to damage the insulator.
• When changing, make sure that the oil on the outside of the plug does not enter the engine interior.
• When putting the plugs in, clean the engine side of the flange and put in the plugs after making sure the gasket is in the flange.
• Make sure the plugs are vertical and tighten them by hand until they cannot be tightened any further (A+B).
• Then, use a plug wrench to tighten them accurately to the torque or rotation angle.
Choosing the right spark plug is as important as identifying a degraded plug. Cheap replacements are a risky short-term solution, and workshops can earn satisfied customers and an upsell by recommending higher quality products to customers.
Mr Couvert says, "The small electrodes in our quality spark plugs allow for optimal flame growth in the early stage of ignition, whilst reducing the required voltage. Despite a small price increase compared to nickel spark plugs for example, these high quality spark plugs are covered by added customer value, leading to increased upselling benefits for all parties."
DENSO's Iridium TT spark plugs allow for a more effective spark and ensure improved performance across the spectrum, particularly on cold starts during the extreme weather in the winter months. The spark plugs significantly improve the combustion process enhancing vehicle performance and reducing emissions.
Depending on multiple factors, DENSO's Iridium TT Spark Plugs can also provide significant improvements in fuel economy compared with standard spark plugs, amounting to up to around a 2.4% improvement. Mr Couvert adds, "These improvements highlight the importance of the highest possible quality spark plugs so that the consumer is benefiting from maximum fuel efficiency in the winter and all year round."
Find out more
Further details of DENSO's Spark Plugs range are available online at www.denso-am.eu, on TecDoc or from your local DENSO Aftermarket sales contact.