A/C Compressors: Why install DENSO?
With a 40% global market share of OE Thermal parts, automotive manufacturers across the world rely on the quality of DENSO's A/C Compressors. DENSO brings the same OE-quality A/C Compressors to the aftermarket, and several A/C specialists across Europe explain why a combination of reliability, efficiency and low noise level make DENSO their preferred supplier.
The key to good business is good customer service, which is why DENSO has become the first choice for workshops and distributors across the world. As market-leader in the OE A/C compressor market, DENSO's expertise and manufacturing techniques translate directly to the aftermarket.
With this expertise comes an unrivalled level of reliability and performance to ensure end-users receive outstanding service and help workshops and distributors build long-lasting relationships with customers.
Several A/C specialists from across Europe have explained why they choose DENSO as their preferred manufacturer, and DENSO has compared competitors' performance against the leading DENSO A/C compressors.
Dennis Beeker, Founder of Airco Service Noord-Holland BV (The Netherlands):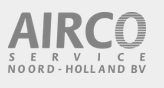 "We give 19 months warranty on our repairs, which is a unique selling point in the A/C business and therefore we rely on DENSO A/C compressors. We have tried second-grade Aftermarket A/C compressors, but most of them give problems within our 19 months warranty period. We ask our customers to return with their vehicle after 19 months, so we can check if everything is working properly. Achieving maximum customer satisfaction is our goal and with DENSO A/C compressors this is no problem!"
Wojtek Borkowski & Wojtek Zajkowski, Owners of AC AUTO Borkowski Zajkowski (Poland):


www.acauto.pl
"We are providing A/C service since 1997 and gained a lot of experience with all kinds of Aftermarket A/C compressor suppliers. Many second-grade A/C compressors give problems with efficiency and durability on the short term, which ultimately has a negative effect on customer satisfaction and our warranty rate. Therefore, we only rely on proven OE quality which for us is DENSO."
Cornel Stoica, Founder of SC. GES Rapid Service SRL (Romania):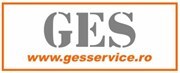 www.gesservice.ro
"We have had bad experiences in the past with second-grade A/C compressors because of their poor quality. Although many suppliers of A/C compressors easily accept warranty claims, our customers are not satisfied and we still lose time and money to repair the failed A/C compressor. Due to this experience we are able to convince our customers to choose OE quality and after installing DENSO's OE quality A/C compressors, the risk of warranty claims is reduced to an absolute minimum!"
Comparison tests
Many second-grade A/C compressors may look and promise the same high level of reliability and efficiency as DENSO OE A/C compressors, but comparison tests clearly show why the experts choose DENSO's A/C Compressors: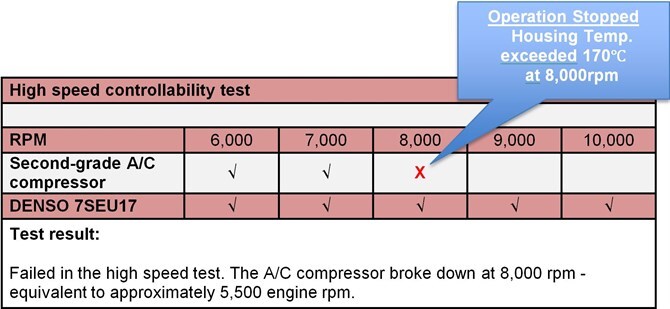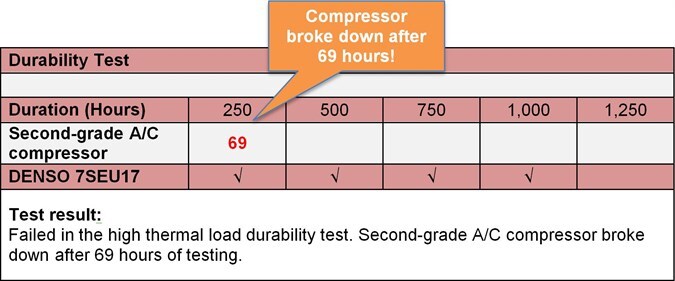 The second-grade A/C compressor failed after only 69 hours in operation due to the poor quality of the steel and the inferior materials of the other components.
Several parts of the second-grade A/C compressor received severe damage:
· Swash plate
· Compressor shaft
· Pistons
· Valve plate
· Axial bearing
· Front housing
The first three in the above list were so badly damaged that they couldn't be repaired.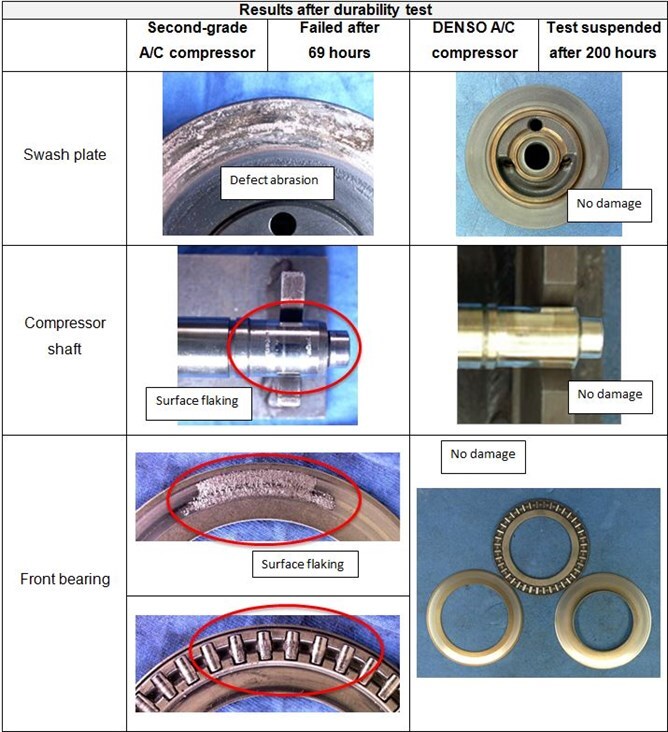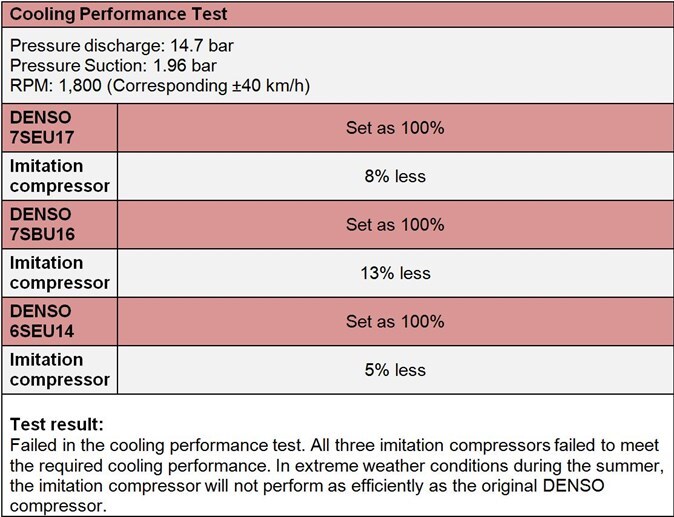 Cooling performance: Time to cool down from 30°C to 10°C
DENSO A/C compressor – 10 minutes
Second-grade A/C compressor – 25 minutes
In order to reach the same temperature drop as the DENSO A/C compressor the low cost second-grade A/C component has to work twice as hard as the DENSO A/C compressor, resulting in more noise and a significantly higher rate of fuel consumption and a higher thermal load on the A/C system.
Quality Matters
Surpassing even the most experienced AC specialist's expectations and maintaining the highest levels of performance during extreme durability tests, it's clear why DENSO is regarded as one of the leading manufacturers of OE and Aftermarket A/C compressors.
Find out more
Further details of DENSO's A/C compressor range are available online at www.denso-am.eu, on TecDoc or from your local DENSO Aftermarket sales contact.