One simple change to improve fuel efficiency
If you had an old computer that was slow, heavy and inefficient, when the time came to replace it, you wouldn't choose another old computer. To get better performance, you'd upgrade – and it's exactly the same with spark plugs.
Replacing an older style spark plug with a more technologically advanced component can result in fuel efficiency improvements of between 1% and 3%. This may not seem like much, but over the course of a year, two years, the lifetime of the car, this can quickly add up to considerable savings.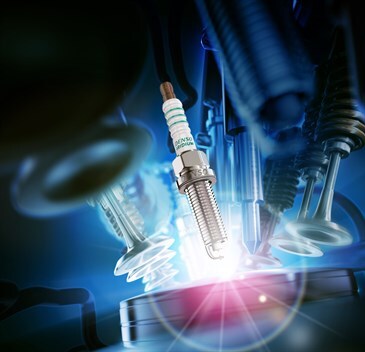 So how does it work?
Traditional spark plug design includes two flat surfaced electrodes, which create the ignition spark within a compact space with limited room for the ignition flame to grow, reducing the potential for combustion.
In comparison, DENSO's Iridium Twin Tip (TT) Spark Plugs are designed with two needle-thin electrodes, which allow the flame to grow by 360 degrees in all 3 dimensions. This unique design enables the flame to expand more quickly and effectively, resulting in a more powerful combustion. This ignitability draws out a much better performance from the engine.
DENSO AM have carried out extensive trials, lab-testing a car engine's fuel consumption using different types of spark plugs, both their own designs and competitors'. The results clearly show that the more space there is for the ignition flame to grow, the better the engine performance. Under full load for example, the Iridium TT spark plug is shown to reduce fuel consumption and CO2 emissions by up to 3.4%[i].
A great way for garages to offer more
When you use an Iridium TT spark plug, you're not just improving your customer's fuel efficiency, you're also improving the lifetime of their engine. Whereas older spark plugs last around 40,000 km, Iridium TT spark plugs will continue to perform after 120,000 km – that's 3 times as far!
The combination of Iridium TT's advanced design with a unique iridium rhodium alloy makes spark plugs more efficient and improves vehicle performance. Greg Shaw, an installer for a UK garage, says that this improvement in performance is what makes him choose DENSO spark plugs for his customers. He said, "I have used other spark plugs in the past but 15 years ago I made the change to DENSO. I started with the standard range and I haven't looked back since."
"The difference was clear from the first start, with a smoother idling and better performance through the gears. I now also use Iridium Power (IY27 and IW27) and straight out of the box you know that you are handling a high-quality and reliable product that won't let you down. I wouldn't consider or recommend anything other than DENSO."
Towards a greener future
80% of the European used car parc features engines with older style spark plugs. Even amongst cars registered from 2015 onwards, 40% use traditional spark plugs. This means that there are a considerable number of customers who could potentially benefit from an upgrade – and it's not just individuals who will benefit. Improvements in the combustion performance of spark plugs reduce CO, CO2 and HC emissions, meaning that a spark plug upgrade is better for the environment too.
DENSO AM assures quality spark plug production
With factories in both Japan and Indonesia, all of DENSO's Spark Plugs, whether they're for the Aftermarket, OES or OE, originate from the same production lines. This means that DENSO Spark Plugs don't just rely on better materials and advanced technology, but are also rigorously tested as part of a standardised manufacturing process.
"By focusing on the quality of our manufacturing process, we ensure that each of the spark plugs that leave our production lines is reliable and will provide optimum performance," said Gilbert Couvert, Product Manager, Spark Plugs at DENSO Europe Aftermarket.
"This gives mechanics and installers the peace of mind that DENSO spark plugs will not only improve a vehicle's performance for longer, but do so every time."
To find out more about DENSO Spark Plugs, visit: www.denso-am.eu/products/ignition/spark-plug
---
[i] Test conditions:
Opel Z12XEP engine, BY 2009
Spark plug gap 1.1mm
Full throttle
Average of 3 times 60 seconds sample