DENSO provides the spark as British racing driver Rebecca Jackson achieves her target finish to end her MINI Challenge season
Aftermarket supplier marks Jackson's result and highlights benefits of the iridium TT spark plug in new video
The end of September marked the close of the 2017 UK MINI Challenge season, and with it an opportunity for Rebecca Jackson, DENSO brand ambassador, to seal her victory in the Ladies' Cup and clinch a top 20 championship finish overall during her first season of working with the brand.
Being more familiar with sports and GT machinery, Rebecca had aimed to sit in the top 20 of the 32-car field in what is her first season of front-wheel-drive competition. The UK Donington Park season finale also brought an opportunity to highlight the benefits of DENSO's Iridium TT Spark Plugs and demonstrate that on both road and track it is the small details which can matter most to car performance.
The Season So Far…
Rebecca arrived at the Donington circuit needing another strong performance to reach her season's goals. After battling with rainy conditions at the MINI Festival at Oulton Park a few weeks prior, Rebecca had understood the impact high quality OE equipment can have on a car as her DENSO Hybrid Blades helped keep her visibility clear, and steer her to a 14th place finish on the day.
All to Play for at Donington
Arriving 21st in the points standings, Rebecca's weekend at Donington got off to a dramatic start when she suffered a puncture after just three laps of qualifying. This meant that she would have to deliver a stirring performance from a grid position of 23rd for race 1.
During the first race she got off to a storming start, and managed to finish in 20th position, meaning she had secured her top 20 finish and only needed to finish the second race to claim this title. Rebecca drove carefully on her second race and finished safely to secure her top 20 position for her and the team.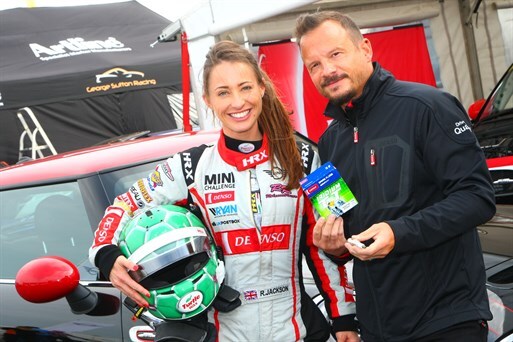 Iridium TT Spark Plugs
Rebecca Jackson achieved her season target of a top 20 finish owing equally to some excellent racing and the high-quality components of her race car. During the day a mechanic was on hand to offer advice on the impact good spark plugs can have on car performance on the road.
Since its launch in 2015, the Iridium TT Spark Plug has been the component of choice for many roadcars, owing to its durability, performance and economy. The Iridium TT plug offers world-first innovations in the form of the highest concentration of iridium and the smallest centre electrode in its product group, resulting in a lifetime of up to 75,000 miles. With 90% of EU car coverage, it gives the opportunity to all drivers to retrofit the latest OE ignition technology, improving the fuel consumption and CO2 emissions in the process
By stocking the DENSO Spark Plug range, workshops will be able to deliver a high performing OE fitment to all road cars.
To watch Rebecca's meeting with the DENSO mechanic and see footage from her final MINI Challenge race click here: https://www.youtube.com/watch?v=B7C54EvpkjE
For more information about DENSO's range of aftermarket products and to find your nearest DENSO distributor or stockist please visit /