Kalle Rovanperä achieves second consecutive podium finish for TOYOTA GAZOO Racing at Ypres Rally in Belgium
13-15 August saw the FIA World Rally Championship make its first appearance at the Ypres Rally in Belgium. The classic route, whose racing history dates back to 1965, is known for being a demanding asphalt event on farmland roads lined with ditches. The final day was held around the famous Spa-Francorchamps racing circuit, where the TOYOTA GAZOO Racing World Rally Team celebrated Kalle Rovanperä's and co-driver Jonne Halttunen's third place and second consecutive podium finish.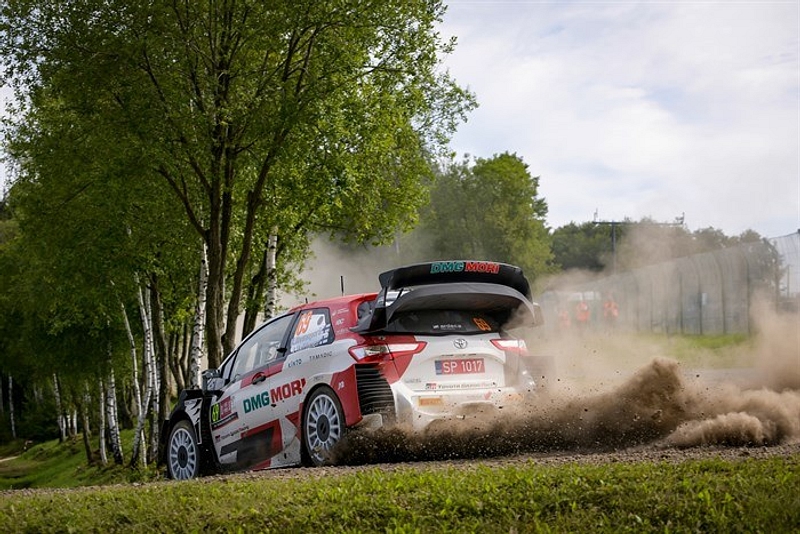 A new experience for all
Kalle Rovanperä's and co-driver Jonne Halttunen had high hopes at the Ypres Rally in Belgium, following their first victory of the 2021 FIA World Rally Championship, in the previous race at Rally Estonia. However, the Ypres Rally was a brand-new challenge for the Toyota team and all of its drivers, none of whom had ever competed before on the tricky asphalt stages.
Day 1 began with shakedown in the morning, and competitive action got underway on the scheduled eight stages through the afternoon and evening. There were two immediate challenges facing the drivers from the start; the first running at the head of the field having a layer of dust to clear and the lack of grip on the stages.
During the opening loop of four stages, Elfyn Evans and co-driver Scott Martin posted to the top-three stage times, 0.8 seconds away from third overall. Later that day, Rovanperä edged ahead of Evans in stage 7, and remained just 1.4 seconds from third place, after the last stage was cancelled for safety reasons.
Sébastien Ogier and co-driver Julien Ingrassia were quicker in the second loop that evening, closing to within six seconds of Evans and setting the fastest time in stage 7. TGR WRC Challenge Program Takamoto Katsuta and replacement co-driver Keaton Williams finished in seventh place overall.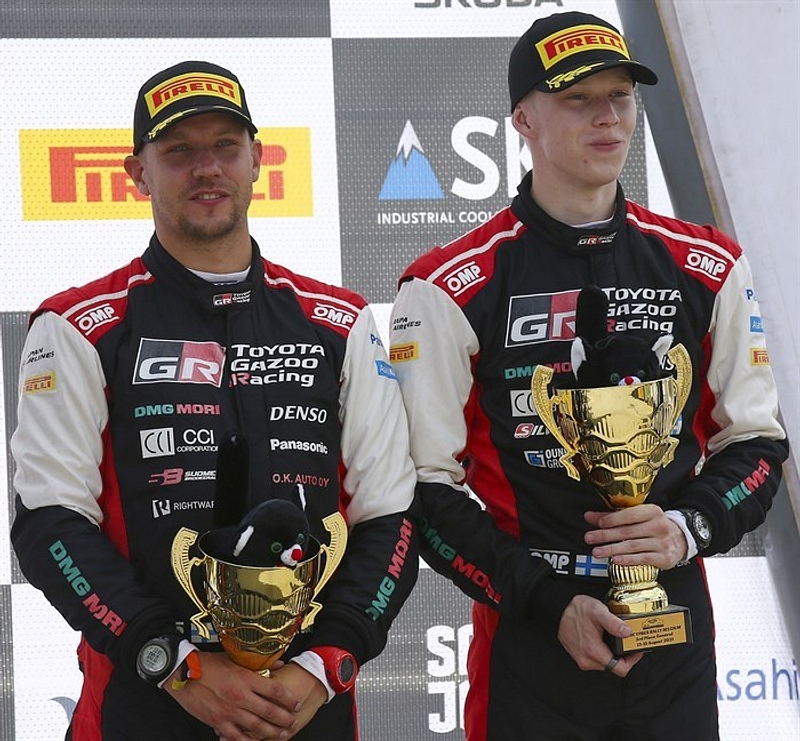 An impressive team effort to the end
The first day saw the team and its drivers learn the all-new event, allowing day 2 for all three TOYOTA GAZOO Racing drivers to discover their confidence. All three were engaged in an ultra-close battle for the podium going into the final day of the Ypres Rally Belgium and were separated by only 4.3 seconds. Evans finished third overall, just ahead of team-mates Rovanperä and Ogier. Katsuta's rally came to an early end after suffering a crash in stage 10, he and co-driver Williams were unhurt.
On Day 3, all three remaining drivers in the Toyota Gazoo Racing World Rally team competed for a podium finish after completing the final four stages around the Spa circuit. The character of Spa tested all competing drivers, due to a combination of twisty public roads in the Ardennes region, with access roads around the Spa circuit, as well as sections of the racetrack itself.
Unfortunately, Ogier and Ingrassia sustained tyre damage, and delayed their chances of increasing their position. Rovanperä's and co-driver Halttunen's strong performances continued on the final day's stages, gaining the fastest time in the first stage, and moving ahead of Evans to third place.
Rovanperä and co-driver Halttunen claimed third place by 6.5 seconds over Evans, an impressive feat considering it was their first rally at Ypres. Evans and his co-driver Scott Martin took fourth while Ogier and Julien Ingrassia finished fifth.
Ogier's second-fastest performance in the rally-ending Power Stage (with Rovanperä fourth and Evans fifth) gained him additional points which strengthens his championship lead, now with a 38-point lead over Evans, who is tied on points with the driver in third. Toyota continues to lead the manufacturers' standings by 41 points.
Team Principal, Jari-Matti Latvala, said: "It was a really close fight between our drivers today and in the end it was Kalle who had great pace and could finish on the podium. He did a strong rally, and that is really nice to see in his first rally back on asphalt after the accident in Croatia. I think all the drivers did a good job this weekend, we just couldn't fight for the victory because we didn't have the experience here."
Kalle Rovanperä said: "The final day here in Belgium was really nice. It was one of the tightest fights I have been in on a Sunday and to compete with your team-mates is always interesting. The stages around Spa were maybe a little bit easier for me, a bit closer to what I have driven before on other rallies and therefore a bit easier for me to get up to the pace, but it was still quite tricky. I'm really happy with this result.
Elfyn Evans said: "Today was unfortunately the worst day of the rally for us. It just didn't really click from the outset this morning. We were pushing at points but lost a bit with a few mistakes and it just wasn't our day today. Kalle had a strong day and a great result for him. Now we obviously have to look forward to the next one and try to be better."
Sébastien Ogier said: "I was looking forward to an exciting final day with a nice battle for the podium with our team-mates, but after three or four kilometres of the first stage this morning we picked up a puncture. After that moment we focused on the Power Stage. We didn't manage to win it but still we got second place, with four extra points. Thanks to that we come out of this weekend leading the championship by one point more than before, so it's not that negative."