DENSO distributors tour award-winning factory in Thailand
DENSO distributors were invited to take a once-in-a-lifetime trip to Thailand to visit the award-winning Siam DENSO Manufacturing (SDM) factory in November.
In order to qualify for the trip, distributors had to reach a specified sales target during a DENSO Rewards incentive programme that ran July through September 2017.
Thailand's SDM factory
Founded in 2002, the SDM factory currently employs over 3,000 people in the production of high precision products for injection fuel systems and is the largest factory in the world for the diesel common rail system.
The factory prides itself on its efforts to increase efficiency, safety and product quality. For example, the product line is uniquely optimised to minimize operator movement in order to increase overall efficiency. Moreover, factory management encourage staff to offer practical suggestions for quality and production line improvement. Once these ideas are successfully tested and implemented, they are shared with neighbouring factories as well; the production line is marked with small flags to indicate where these improvements originated and to recognise staff contributions. The factory walls are also adorned with posters of cars to remind staff of the worldwide reach of the DENSO parts produced in the factory, something staff members take immense pride in recognising.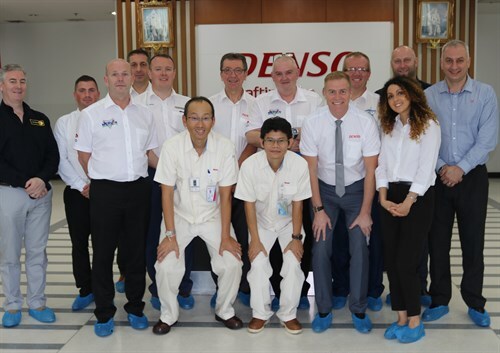 In addition to recently receiving the gold-level award for Excellent Establishment on Safety, Occupational Health and Working Environment, the SDM factory has also been recognized with following prestigious awards:
Excellent Establishment on Labour Relations and Welfare Award (2016)
Mother-Friendly Learning Centre for Happy Work and Happy Life
DENSO Asia QC Circle Convention (2015/2016)
DENSO Global winner (2015)
Exploring the factory and city
During their visit, distributors met with factory president Yasushi Nakamura and vice president Tatsuaki Hiratani for a short presentation, followed by a special tour of the factory and Q&A session. The distributors also toured the stunning city of Bangkok, visiting the Grand Palace, exploring the canals by speedboat on the river, and watching a Muay Thai boxing match. Later, they were treated to a day trip to the nearby island of Phuket, where they took speedboats and sea canoes to the breathtaking Phang Nga Bay.
A memorable experience
Scott Maul, Operations Manager at Colchester Fuel Injection and one of the distributors in attendance, enjoyed all aspects of the trip immensely. "We were made to feel welcome and entertained literally right from the start to the very end. The whole itinerary could not possibly have been arranged any better and with the great mix of people on the trip, it made the whole thing a fantastic memorable experience."
Overall, the rewards programme creates a meaningful way to connect with distributors across DENSO and to provide priceless experiences such as this trip to Thailand. "With the rewards programme, we wanted to show our customers that their loyalty and business is what we value the most," explained Fatiha Laauich, Marketing & Communications DENSO Aftermarket UK & IE. "We are also very proud of our production facilities, and we love to share this insight of where the products come from with the very people that sell them in the marketplace."