Aftermarket and Industrial Solutions Business Unit celebrates 2016 success
With the start of the fiscal year, DENSO Europe's Aftermarket and Industrial Solutions Business Unit (AMIS) gathered to celebrate its many successes in 2016.
For millions of drivers across Europe, cars mean transport, freedom, teenage rebellion, and mid-life crisis. They're invisible, outrageous urban warriors and cross-country cruisers. Cars are everywhere.
And for almost 70 years car manufacturers have trusted DENSO to supply their most critical parts.
Headquartered in Kariya, Japan our 150,000 employees span the globe leading the way in the development and manufacture of advanced technologies, systems and component, while also maintaining a clear focus on environmental care and social responsibility.
Our vision of a future world in which cars, people and society exist in an accident-free, sustainable harmony drives our mission to improve driving safety, comfort, convenience and the environment. Our mission has resulted in innovations that help reduce fuel consumption and CO2 emissions, increase energy efficiency and improve performance.
Spanning 14 European countries our Aftermarket and Industrial Solutions Business Unit (AMIS) brings OE quality, DENSO automotive parts programs to distributors, wholesalers, garages. Developing a range of innovative aftermarket components, AMIS also supplies custom-made bus air conditioning systems, advanced robotics technology for small assembly robots, and provides the technical advice, training seminars, marketing materials, and service networks to exceed our customers' needs.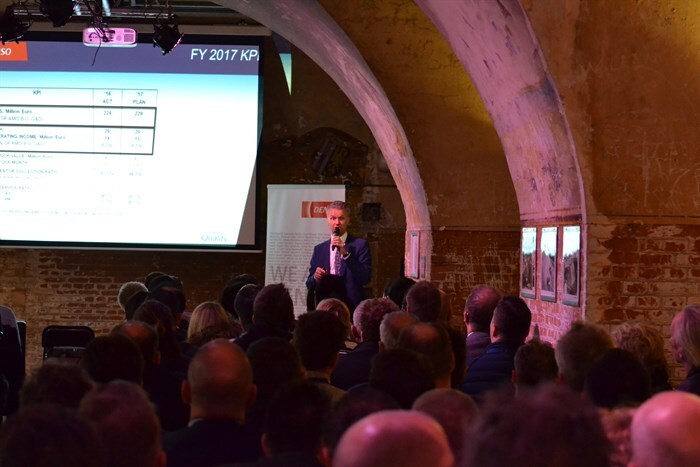 On April 19th, the DENSO Europe AMIS team gathered on Forteiland near Ijmuiden, the Netherlands, for the start of the 2017 fiscal year, bringing together more than 180 participants from all over Europe.
The program started with a presentation of financial figures of another record year for AMIS, with sales figures of €224 million for the 2016 fiscal year, an increase of 107% from 2015.
The event continued with series of inspiring, educational and team-building activities. The team with the best scores during the team-building activities received awards, before a group photo was taken of all the DENSO AMIS team.