DENSO proves popular at Autoprofessioneel & Schadeherstel 2016 exhibition
DENSO was well-received by wholesalers and garages at the annual trade event in Gorinchem, The Netherlands.
DENSO took centre stage at an annual trade event in Gorinchem, attended by wholesalers, garages, distributors and aftermarket parts suppliers across the Netherlands and beyond.
DENSO's high-tech 40sqm booth proved popular amongst the attendees, with over 15,000 visitors across the three day exhibition, which ran from Tuesday 8th March to Thursday 10th March.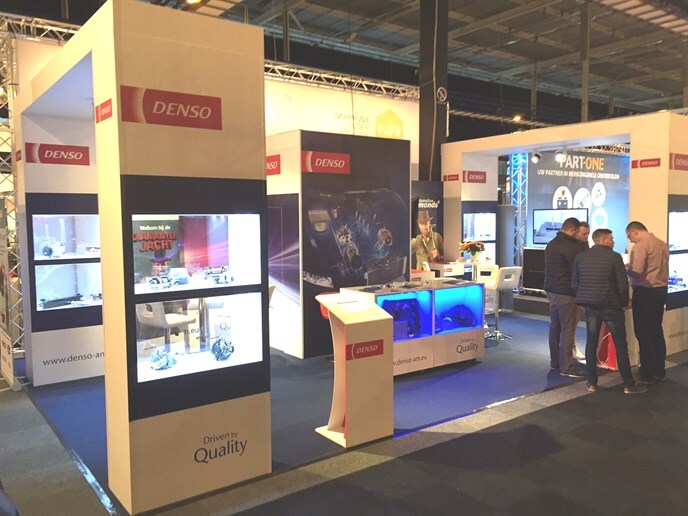 Visitors were given the opportunity to play DENSO's exclusive games. The tablet games were based on popular games like 'Candy Crush' but with an automotive twist. 'Tap Tap Spark' and 'Parts Twister' was a hit with exhibition visitors – who could win DENSO giveaways by obtaining a minimum score.
Promoters dressed as diamond hunters also attended the booth, showcasing DENSO's award-winning automotive Diamonds loyalty programme. Promoters encouraged exhibition visitors to enrol into the loyalty programme, and new members received a free 'Diamonds' beanie.
Dominic Vrieze, DENSO After Market Sales Executive for Benelux commented: "These trade shows provide a vital platform to showcase DENSO's credentials as the leading brand in the aftermarket.
"Our strong partnership with the automotive Diamonds loyalty scheme continues to underline our commitment to quality service; rewarding garages for their loyalty in buying quality DENSO products, and effectively supporting them and their teams."
Automotive Diamonds is a renowned loyalty programme, recently winning the B2B Loyalty Programme of the Year at the prestigious Loyalty Awards 2015. Garages and workshops can collect labels from DENSO products and return them to be rewarded with 'Diamond' credits. These can then be exchanged for rewards – ranging from workshop equipment to technology products and household items.
Find out more
For full details on how to join and start collecting 'Diamonds', visit: www.automotivediamonds.com.
Further details on DENSO's aftermarket range are available online at www.denso-am.eu, on TecDoc or from your local DENSO Aftermarket sales contact