An extraordinary exhibition year for DENSO Germany
For DENSO Aftermarket Germany, 2016 has been eventful in every meaning of the word. Heavily involved in Automechanika Frankfurt, one of the largest events of its kind in the world, DENSO Aftermarket Germany has participated in no fewer than 14 regional exhibitions.
Attending more exhibitions around the country than ever before, every event was a new opportunity to interact with DENSO customers face-to-face and raise awareness of the DENSO Aftermarket brand and team. DENSO Germany brought a brand new stand concept to the exhibitions, which was designed to help highlight the OE-quality programme and provide a technical, informative booth for customers and attendees to enjoy.
With a dedicated "Workshop Corner", DENSO technical specialists could field questions from workshop customers and offer expert advice on fault finding, service procedures and any general best practice tips. A range of cut-away product samples were also on display to give customers an insight into the advanced technology that goes into every DENSO product, and highlighted the unique benefits of DENSO's complete OE-quality product lineup.
DENSO Aftermarket Germany also led the "DENSO Product of the Month", a campaign which focused on a different aspect of DENSO's range each month. The campaign highlighted DENSO's leadership over vehicle coverage, unique aftermarket availability and advanced technology, for product types across various parts of the aftermarket.
Exhibitions throughout November focused on DENSO's Hybrid Wiper Blades as its "Product of the Month". The exhibit let customers take a closer look at DENSO's position as an OE manufacturer of Hybrid Wiper Blades for many of the world's biggest vehicle marques, and the product's upgrade potential for vehicles with its unique design and innovative technology.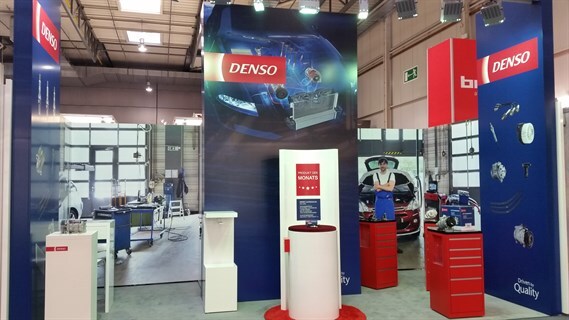 Margit Epple, Marketing Coordinator, DENSO Aftermarket Germany, commented: "To participate in 14 trade shows this year is a big achievement for DENSO Aftermarket as we look to build on our growth in the sector."
"The exhibitions are a fantastic opportunity to build upon important relationships with garages and workshops, giving them the opportunity to find out more about the DENSO brand and contact our technical team to highlight DENSO's technological leadership in the aftermarket.
"Visitor response has been encouraging, and they have been delighted with our new stand concept and the chance of an attractive top prize that accompanied our "Product of the Month" campaign."
Find out more about DENSO online at media page.