HVAC components: tested to perfection to boost your business
In-car climate control is no longer a luxury. Car drivers have come to expect it. And that means component replacement can be good business for your workshop. This latest article in our "behind the scenes" series takes a closer look at how our Eching facility tests DENSO HVAC components to perfection to ensure your workshop's customers' OE quality expectations are not just met but exceeded.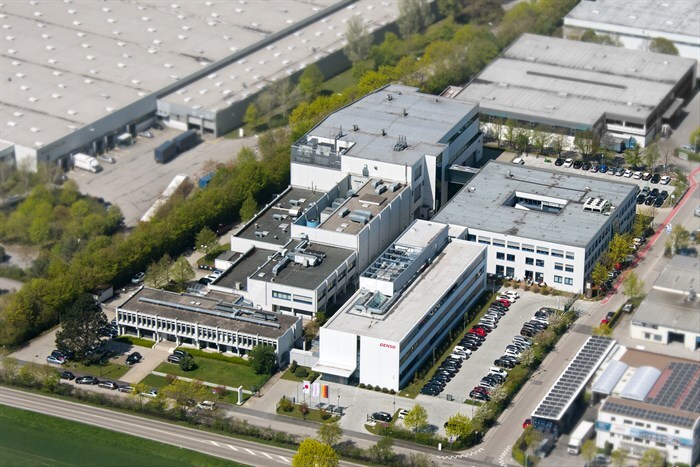 Bavaria is Germany's automotive stronghold. It's where BMW and Audi gained their global reputation for premium quality – and where DENSO's Eching Testing Facility is located, too. In 1994 DENSO opened one of Europe's most modern climatic wind tunnels in an industrial park near Munich. In 2003 the facility trebled in size to 7,800 m2 with the addition of two new vehicles chambers, five component test benches and a material testing lab. It's here that DENSO specialists thoroughly test OE HVAC parts and systems, to make sure they meet the highest standards, as defined by vehicle manufacturers, international legislation and DENSO's own internal specifications. These parts are eventually sold to the aftermarket, so you can be sure that the parts you use in your workshop have been subject to rigorous testing during their OE development phase.
As Jan von Pozniak, DENSO's Senior Technical Manager Acoustics in the Thermal Performance Development, points out, "Our testing philosophy may sound quite simple: beyond all expectations, but in practice our testing procedures are anything but simple. Automotive parts made in Germany, have a reputation for the highest possible standards – and that's certainly true of our HVAC OE."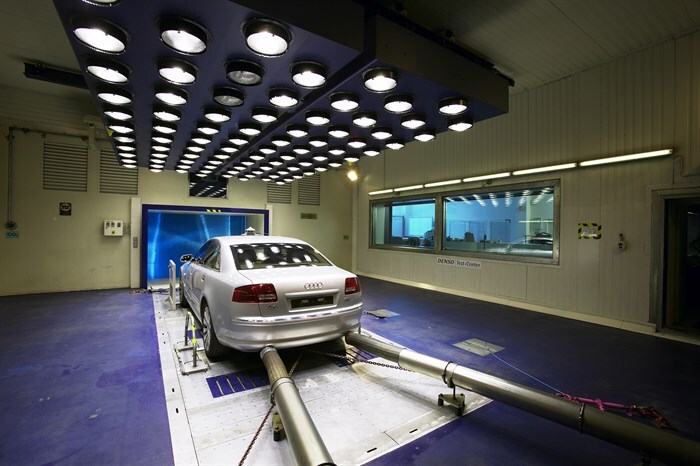 Wind Tunnel test chamber
Although hot summers are becoming increasingly common, temperatures of +50°C are fortunately still rare. Yet that's how hot we can test cabin conditions in our Wind Tunnel – at a sun load of up to 1,200 W/m2. At the other extreme we can go down to -30°C to simulate every possible vehicle driving condition. The intensity of solar radiation has a big impact on controlling HVAC systems. Sophisticated technology in our Vehicle Climatic Chamber enables us to simulate every possible position of the sun and head wind in carrying out heat-up and cool-down tests from -20°C to +50°C. It's all in the interests of optimising our A/C & thermal systems.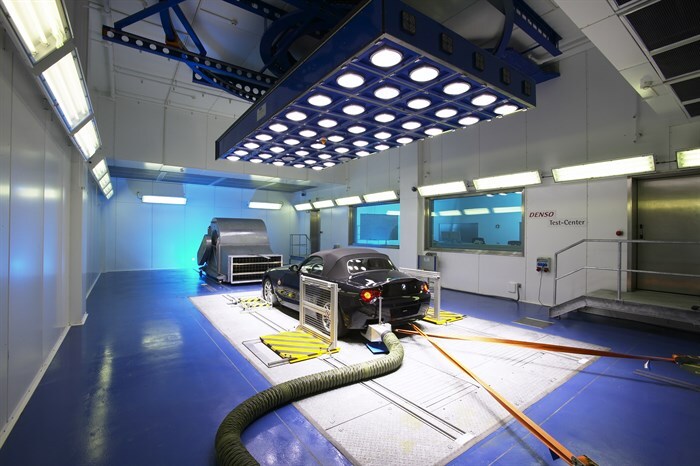 Vehicle Climatic Chamber
High-quality in-car music is a must these days, and nobody wants the noise of the HVAC system to disturb the acoustic experience. That's why we test and optimise our systems at a very early development stage in the Vehicle Noise Chamber. Artificial head technology records any unpleasant sounds, however very low they may be, so we can locate the source and eliminate the noise. We even have a roller test bench to check out any negative noise feedback between engine and refrigerant compressor. Our fascination with noise goes one step further in our Component Noise Chamber. That's where we test the acoustic behaviour of our vehicle HVAC components, localise any sources of unwanted sound and optimise the component in question.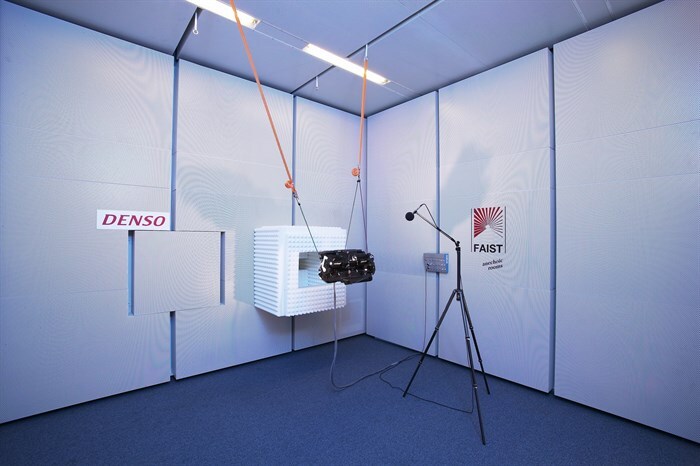 Component Noise Chamber
Great teamwork is key to a good workshop performance. The same is true of HVAC systems: the better the individual components are attuned to each other, the better the performance of the overall system. That's exactly what our Climatic Chamber/Condenser Wind Tunnel is designed to do. Here we test, for example, the refrigerant compressor in an engine compartment simulation capable of creating ambient temperatures of up to +120°C. We can also simulate any possible air intake temperature and test CO2 heat pumps to ensure optimal performance. Aristotle was a smart guy and his famous saying is our guiding principle: "The whole is greater than the sum of its parts".
Your customers' in-car comfort is also impacted by temperature stability and temperature distribution. As heat exchangers get smaller and smaller, temperature distribution within a HVAC system becomes critical. To eliminate jumps in temperature or the need for constant readjustment of manual HVAC systems, we thoroughly test all our A/C and thermal components in a Temperature Control Chamber – beyond everybody's expectations except ours.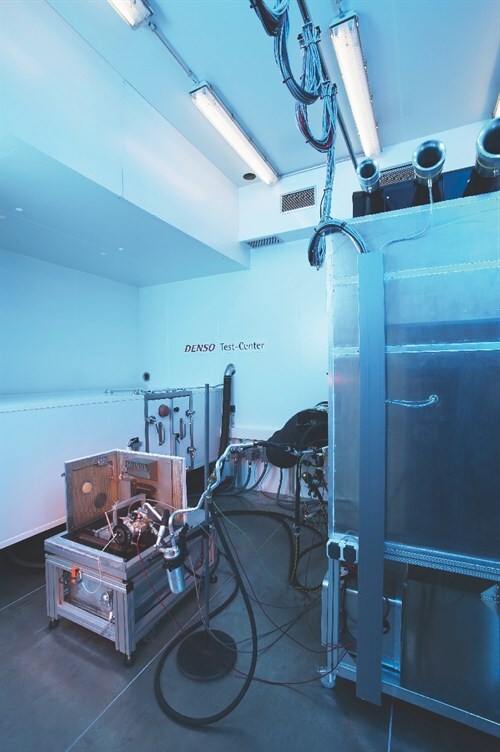 Temperature Control Chamber
3D printing of automotive components? Eching has four cutting edge 3D printers to construct prototypes and samples. As vehicle development times get shorter and shorter, we need to frequently change the dimensions of DENSO A/C and thermal components. 3D printers are the ideal solution for Prototyping and Sample Construction of complex geometries from CAD data. Simulations based on CAD models are used to verify the performance of our products at an early stage. The software expertise of our design and simulation specialists is complemented by the metal and non-metal know-how of our material engineers. This way, DENSO A/C and thermal components are always manufactured from materials with the best possible mechanical, microstructural and electrochemical properties.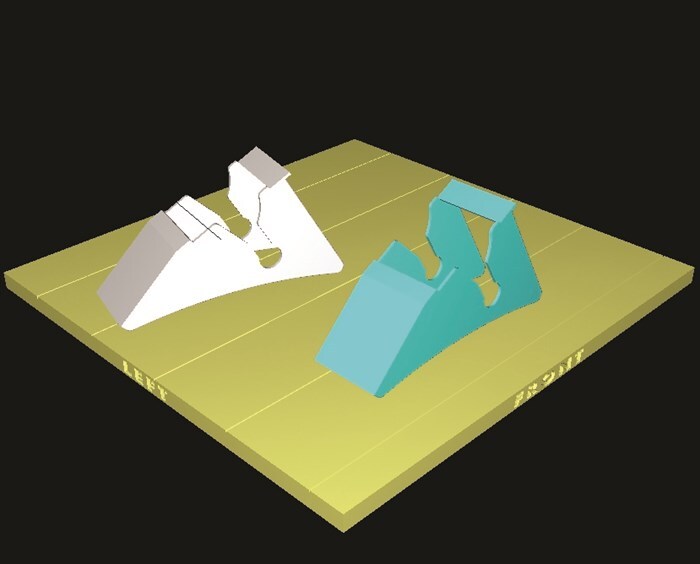 CAD (Computer-Aided Design)
"At DENSO we invest 10% of our net earnings in research," Jan von Pozniak points out. "This not only underlines our special focus on quality and innovation, but also ensures that individual components and complete HVAC systems are optimised within an overall vehicle concept." So if your workshop relies on A/C and thermal components from DENSO – A/C compressors and condensers, receiver driers, expansion valves, pressures switches and engine cooling components such as cooling radiators, intercoolers, cooling fans, cabin blower fans and heater cores – you can be sure of genuine OE quality. Because we go beyond expectations, your customers will see theirs fulfilled as well.