DENSO robotics powering industrial automation
Think of DENSO and you probably picture world-leading OE-quality vehicle parts and technologies, but did you know the company has a similarly enviable reputation when it comes to robotics? With more than 100,000 DENSO small industrial robots installed worldwide, including 20,000 used in its own manufacturing facilities, DENSO has become a leading name in industrial automation.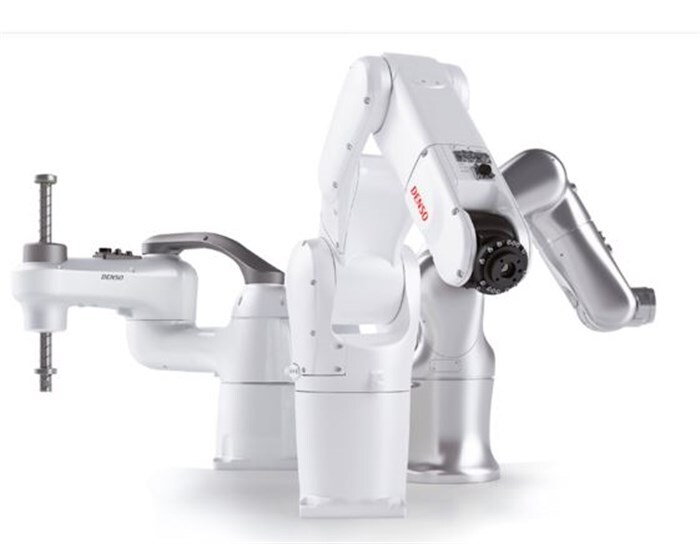 Leading from the front
As with all DENSO technologies, the company's association with robotics dates right back to the very early days of feasibility testing throughout the industry. When the very first industrial robots appeared in the 1960s, DENSO recognised the advantages of the technology and began developing a range of state-of-the-art controllers, software and industrial robots to be implemented into its own production processes. By 1967, DENSO has successfully launched its own robot development programme and the manufacture and implementation of its first aluminium-die casting robot was well under way.
For the next 30+ years, DENSO was credited with a long list of innovations for its robotics development. From the four and six-axis mid-sized robots of the 1980s and the advanced controllers of the 90s, through to the HS, HM and VS-series robots of the early noughties, DENSO has long led the way in robot technology. Today, the company has more than 50 years' experience in small-size industrial robots, providing reliable, flexible and functional solutions to almost every industry sector.
Automating automotive production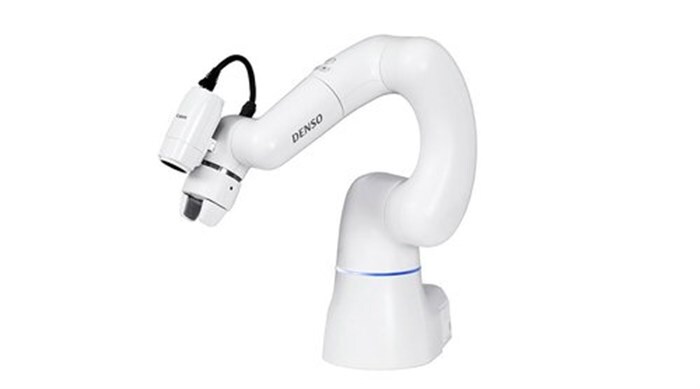 DENSO robots are used for various applications from assembly and transportation to inspection, processing and more. They've become commonplace in sectors including automotive, electronics, food and beverage, pharmaceutical; industries where precision, reliability and repeatability are critical. With a portfolio covering 4-axis robots (SCARAs) to 5-and 6-axis robots, all of DENSO's robotic solutions are designed to be compact, light-weight and user-friendly, delivering outstanding speed, precision and quality. Nowhere is this more apparent than within the automotive sector.
Few vehicle components are as safety-critical as airbag control units, which detect and evaluate the severity of an impact before triggering the appropriate restraint systems. The cases which cover these systems are manufactured through an injection-moulding process, which for German manufacturer RENGER Kunststoffspritztechnik GmbH, was traditionally a predominantly manual task, with employees carrying out their own quality control processes. Working with DENSO, RENGER identified a way to significantly reduce cycle times and decrease defect figures to zero, by automating the process through a DENSO–built robot-based system which combines fast pick-and-place performance with outstanding quality control. Supported by a visual camera, a DENSO robot removes components from a cast spraying machine, performs quality control checking for any defects and subsequently passes the flawless component into small load carriers for processing. A second DENSO robot then removes the components from the carrier, places them into a complex press-fit system and performs another quality check before passing them into a 'finished components' carrier.
DENSO robots are also being used in the production of vehicle headlights, by Italian company Dymaco Group. DENSO's VS087 robot is being used in tandem with Dymaco's own DM401 6-axis articulated robot to quickly and accurately calculate the measurement points in headlight lenses and reduce error rates during component verification. The VS087 measures each component based on a sample part before Dymaco's DM401 receives data for the actual measurement. The results are then compared to the calibration values set by the manufacturer to ensure the components function exactly and according to their lifetime.
Innovating across industries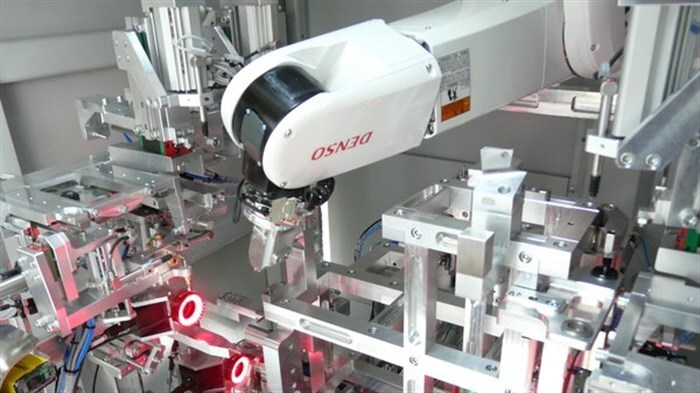 More than 50 years after pioneering the design and manufacture of robotic equipment, DENSO is continuing to push boundaries following the recent launch of its collaborative robot, COBOTTA. Compact, light-weight and easy to use, COBOTTA is designed to work in harmony with people to automate some of the most manual-intensive tasks. Weighing just 4kg, its six-axis arms can reach 342.5 mm and pick up 0.5kg. The entire system is built to be highly portable so that the robot can be taken to different assembly workbenches, or connected to a 3D printer and programmed to automate simple tasks. To further broaden the appeal of COBOTTA, the system is designed to be highly user-intuitive with operation incredibly straightforward, even without expert knowledge.
DENSO's aim is for COBOTTA to transform the way industrial sectors use robotics, putting convenience and portability first. It is indicative of the innovation that runs throughout every aspect of the company. DENSO pioneered the first electric compressor for hybrid cars and continues to deliver future-facing vehicle solutions for the aftermarket, designed to enhance overall vehicle performance whilst reducing environmental impact. As a global company with an active presence in multiple industries, DENSO continues to transfer proven technologies across several sectors to help its customers improve efficiency and output every single day.