A greener future? DENSO's focus on sustainability.
In 2050, the global population is predicted to be as many as 9 billion people. To handle all the CO2 and waste created, we will need the equivalent of four planets.
But of course, we only have one. What can be done? In 2015, the United Nations adopted the Sustainable Development Goals (SDGs) and in 2016, agreed the implementation of the Paris Agreement. Governments around the world are striving to make changes to protect our environment. Corporations have an important role to play too – taking steps to contribute to the sustainable development of society at large.
How is DENSO responding to this situation?
DENSO parts are used in cars and trucks all over the world. We know we bear great responsibility towards the earth's environment and population.
Throughout our history, DENSO has developed advanced technologies and worked with the best talents to minimise negative environmental and societal impact. Today, there are two important plans which set out how we intend to become more sustainable: our Eco Vision 2025 and our Long-term Policy for 2030. This article provides a brief overview of each and highlights our key initiatives for a greener future.
Eco Vision 2025
At DENSO, we formulate our Eco Vision every 10 years, as a long-term commitment towards environmental management and policies pursued by the Group. An Environmental Action Plan is formulated every five years to embody the commitments and environmental policies established in the Eco Vision.
Our vision for 2025 is based around three key targets: Energy 1/2, Clean x2, Green x2. We aim to meet these targets by implementing 10 actions relating to product development, production sites, associates and management.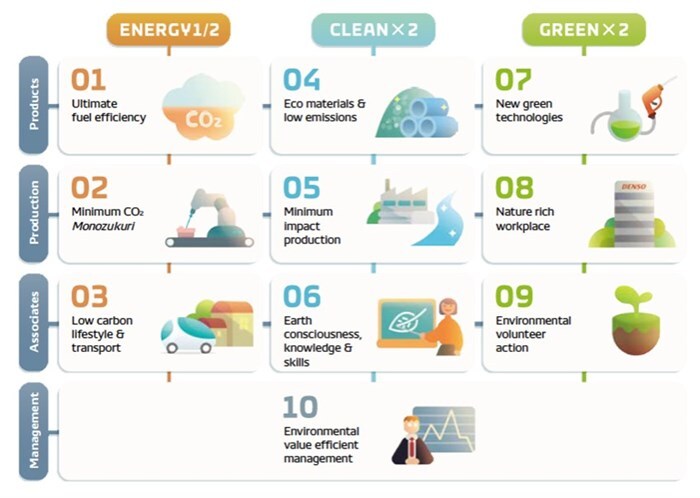 Energy 1/2
We are aiming to cut CO2 emissions by half with technologies that resolve global warming, energy, and resource issues.
Product use represents the stage with the highest CO2 emissions in the vehicle lifecycle. To help prevent global warming, it is important to increase fuel efficiency through the use of lightweight designs in automotive parts and ensure high combustion efficiency. For example, our new power control units and motor starters are smaller and more lightweight than previous parts. Within product development, DENSO will contribute to reducing CO2 emissions from vehicles through the development of new technologies and products that improve fuel consumption and are compatible with a variety of fuels. In addition, we will implement energy management initiatives which enable the recovery and reuse of heat energy emitted from cars and kinetic energy lost when decelerating.
At factories, we will promote the reduction of CO2 and aim for halving energy consumption through Energy Just-in-Time (JIT) activities corresponding to production fluctuations while improving logistics.
Thanks to energy-saving improvements, we are currently on track to reduce our CO2 emissions to 50 by 2025: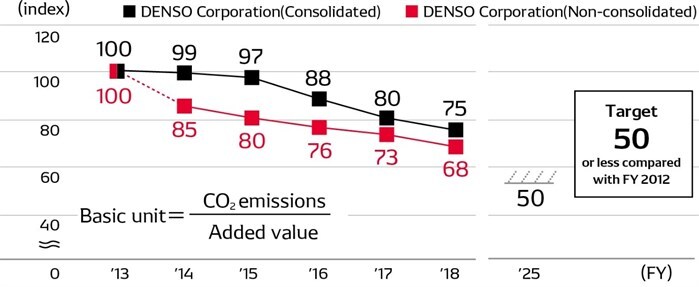 Clean x2
We want to reduce the impact of environmentally hazardous substances, emissions, and waste by half, as well as contribute to improved air quality by cutting vehicle emissions.
One of our initiatives links to resource recycling via our expanding parts rebuilding business, which is focused on product reconditioning (rebuilding), parts reuse and material recycling.
Our factories are committed to minimising levels of waste, including chemical substances, and strive to reduce water use. We have established the DENSO Safety and Environmental Management Standard, which is more stringent than the environmental regulations in the countries and regions where we operate. This helps us to identify hypothetical environmental risks (such as environmental accidents, pollution, and legal violations) which we work to prevent from materialising and minimise if they do.
It's really important to us that our employees are fully engaged with our environmental goals, and we conduct training and events in an effort to foster environmental awareness.
Green x2
We want to double our green activities, with programmes such as biofuel research and the creation of green spaces and communities.
To minimize environmental destruction from resource extraction, DENSO is focused on the development of alternative fuels and raw materials using biological resources that carefully take biodiversity into account, including the commercialization of a plant-derived plastic radiator tank, businesses that make use of algae, and expanding research on biofuels.
In cooperation with local communities, DENSO is engaged in the maintenance and preservation of ecosystems. The DENSO Group has been working with local communities to promote the DENSO Green Project since 2006, with the goal of restoring and preserving local environments inhabited by a variety of plant and animal life.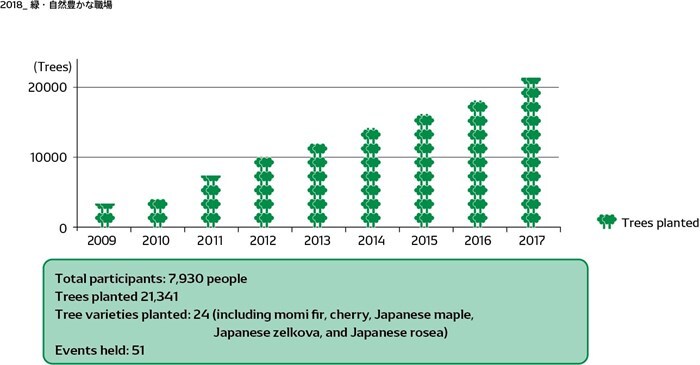 Every year, on World Environment Day (June 5), DENSO promotes tree-planting and regional beautification activities in all our varied locations.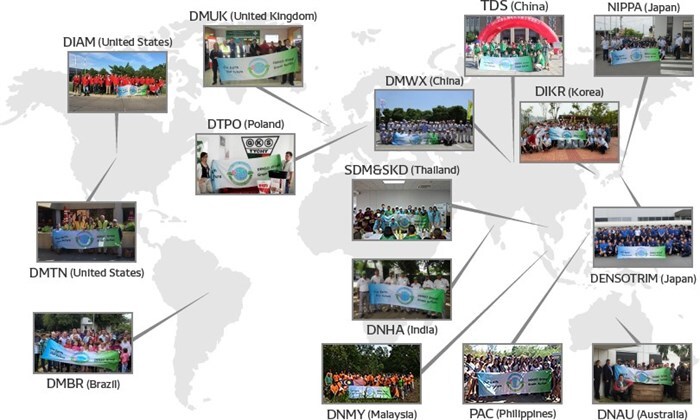 Long-term Policy for 2030
Our Long-term Policy for 2030 sets out our goal for the future, our principles, the business environment and our approach. The policy's slogan is "Bringing hope for the future for our planet, society and all people".
We aim to continue to contribute to a sustainable society by providing value related to two key themes: "green" and "peace of mind". As part of our "green" theme, we will develop and promote products that help reduce environmental burden, such as products for electric vehicles, thereby aiming to decrease CO2 emissions. As part of our "peace of mind" theme, we will accelerate the development and promotion of products related to advanced safety and automated driving technologies.
In addition, a third theme, "inspiring", encapsulates how we want to make a difference and contribute to happiness for everyone through inspiring, value-added offerings.
Sustainable Development Goals
The policy sets out the main social issues we want to address, as defined by the UN's Sustainable Development Goals, and which areas of the business will be involved in working towards them.
Key Goals to be achieved using our products and services include:
3. Good health and well-being: ensure healthy lives and promote well-being for all at all ages.
7. Affordable and clean energy: ensure access to affordable, reliable, sustainable and modern energy for all.
9. Industry, innovation and infrastructure: build resilient infrastructure, promote inclusive and sustainable industrialization and foster innovation.
11. Sustainable cities and communities: make cities and human settlements inclusive, safe, resilient and sustainable.
12. Responsible consumption and production: ensure sustainable consumption and production patterns.
13. Climate action: take urgent action to combat climate change and its impacts.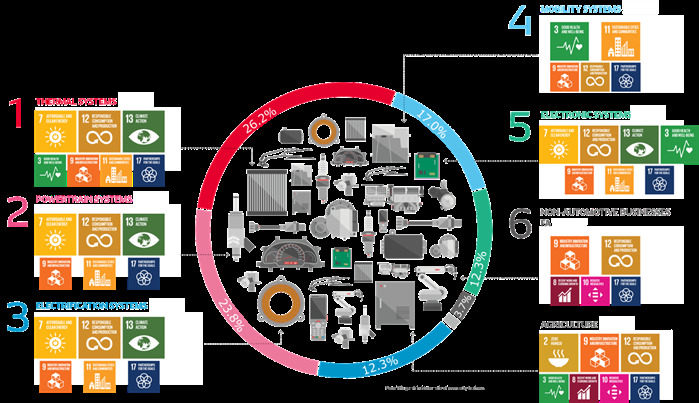 To link our efforts with our business activities and continuously control the progress of these efforts, we have shared our intentions companywide and determined long-term targets and KPIs in accordance with each theme. Our achievements will be reported to the DENSO executive officers two times a year, helping us to identify issues we face in reaching our targets and make improvements to the initiatives we are undertaking.
DENSO is taking action for a greener future
To achieve the future vision set out in the UN's Sustainable Development Goals and the Paris Agreement, governments, corporations and the public all need to take action. DENSO is striving to make a positive contribution by saving energy, reducing CO2 emissions – both through parts design and production changes – ensuring clean production, and enabling green spaces.