World's fastest tractor stays cool with DENSO
The World Record Attempt for the fastest tractor was broken by JCB's Fastrac last November with an average speed of 135.191mph and a peak speed of 153.771mph. While the 1,016hp 7.2 litre 6 cylinder JCB Dieselmax engine undoubtedly played a large part in the success, so too did a unique cooling system, designed and manufactured by DENSO Marston. This article looks at the challenges DENSO overcame when cooling the world's fastest tractor.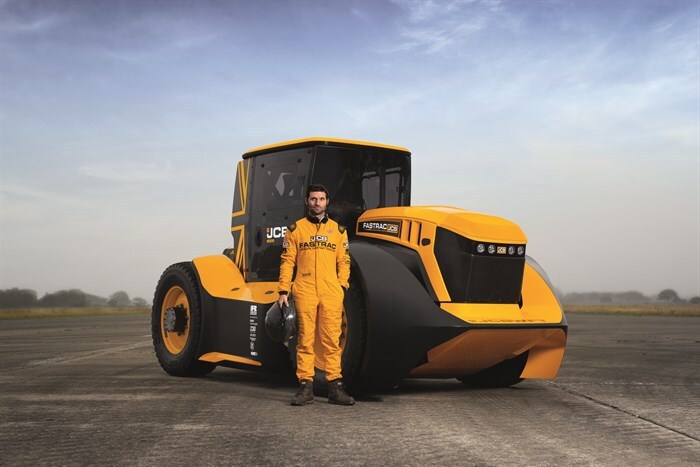 Keeping an engine cool at more than 150mph is a challenge at the best of times, even more so when the engine is powering a modified agricultural tractor attempting to smash a World Record. It is perhaps no surprise then, that when asked to cool a 7.2 litre JCB Dieselmax engine fitted to a JCB Fastrac tractor, the team at DENSO Marston had to push the boundaries of typical cooling system production.
"This project was completely unique in every way," said Craig Cummins, Senior Engineer at DENSO Marston. "Some of the cooler designs and analysis techniques used during this project were firsts for DENSO Marston."
One of the biggest challenges was designing a cooling system that would operate efficiently under a unique driving cycle, since the tractor would experience rapid acceleration and hard braking during its Record attempt. To predict the performance of the vehicle cooling under harsh conditions, DENSO engineers spent countless hours using advanced computational fluid dynamics (CFD) and thermal analysis. The intense development process resulted in a distributed cooling system that housed the primary radiator in the right-hand pod. The left-hand pod housed a lower temperature radiator that was tasked with cooling a unique water cooled charge air cooler, in addition to an engine cooler. To support the vehicle's aerodynamics, which was crucial to gathering speed, the coolers were manufactured in a trapezoidal shape.
"The thermal analysis techniques we used were particularly unique," Craig Cummins explained. "Using iced water as a cooling medium and manufacturing trapezoid coolers to support aerodynamics are not traditional development processes, but were essential for this one-of-a-kind project."
Huge solutions for a mammoth challenge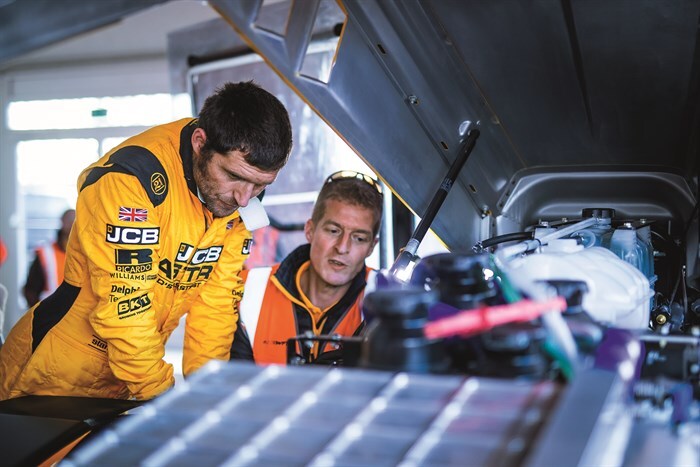 A large vehicle travelling at high speeds requires an equally large cooling solution and the water cooled charge air cooler was the largest, deepest core ever designed and manufactured by DENSO Marston, weighing 55kgs. The specially-designed water tanks were machined from solid aluminium tooling billet and took more than 168 hours to machine, per cooler. The entire project was a mammoth undertaking with cooler production falling to a small team of Prototype and Development Technicians with years of experience fabricating bespoke heat exchangers.
The result was highly impressive; a cooling system with the equivalent capacity of more than six times that of the existing Fastrac Tractor. The water cooled charge air cooler visible at the front of the vehicle was the centrepiece of an extraordinary design and development process that tested DENSO engineers throughout the design cycle.
In the end, the cooling system was a resounding success with the record-breaking attempt overseen by Guinness World Records, who confirmed that the JCB Fastrac completed two runs, in either direction through a speed trap set 1km apart, within the allotted time, to set the 135.191mph record. Every component played a part in the Record, with DENSO applying the same rigorous and comprehensive development process to the unique cooling system that can be seen in all its products; from OEM components to aftermarket solutions. By combining considerable experience and expertise in the development of a wide range of automotive components, DENSO continues to break records with its innovative systems and components.