Choose DENSO! New brand campaign for the Aftermarket goes live
Campaign across European markets emphasizes DENSO's product strengths and passion for excellence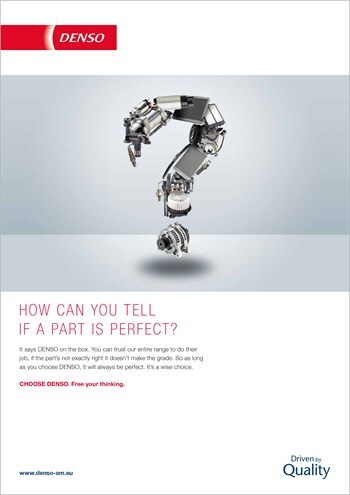 DENSO Europe Aftermarket has launched a brand campaign, reinforcing its reputation for quality, reliability and ability to offer universal solutions to garages and wholesalers.
The 'Choose DENSO' campaign will go live across a wide selection of media in a number of European countries.
Aimed mainly at distributors, wholesalers and garages in the independent aftermarket, 'Choose DENSO' will also be a consumer-facing campaign in Russia and Ukraine.
With a wide variety of artwork already produced, the campaign showcases products spanning the entire DENSO product portfolio – from spark plugs and lambda sensors to wipers, compressors and air filters.
But it is not just about the products themselves: it also covers DENSO's love for designing and building OE-quality parts, dedication to technological advancement, and achievements with key partners such as the Toyota Gazoo Racing Team.
Why Choose DENSO?
Built around the 'Choose DENSO' strapline, the campaign asks a number of 'big questions' such as "How can you tell if a part is perfect?" or "Can a car fall in love?"
The central theme is that by choosing DENSO, repairers can free their thinking, since they don't have to worry about whether a part will fit first time or if it will develop faults.
This is because DENSO parts are precision-built and quality-controlled to match OE specifications – making DENSO the obvious answer to any question garages and wholesalers have when it comes to parts. That's why nine out of ten cars feature original DENSO parts.
DENSO Europe Pan European Strategic Marketing Manager, Fatiha Laauich, said: "We are passionate about driving the success of our customers through producing the best-quality parts, specified exactly for their required function, backed up by a high standard of service and support.
"Why Choose DENSO? Because we understand how wholesalers and garages operate, we strive to always be innovative and different, and we seamlessly give our customers the exact products they need. That's why we believe DENSO is a wise choice."