Previous winners reveal why you should enter the 2021 'League of True Mechanics'
Following the success of 2020's first 'League of True Mechanics' e-learning competition, DENSO is running the campaign once again from March 1 – December 31, 2021. Participants across a range of European countries can now take part, provided they are registered as mechanics or distributor profiles. Once the 2020 season of the first 'League of True Mechanics' concluded, we asked the winners to share their experiences and thoughts on the completed edition with us.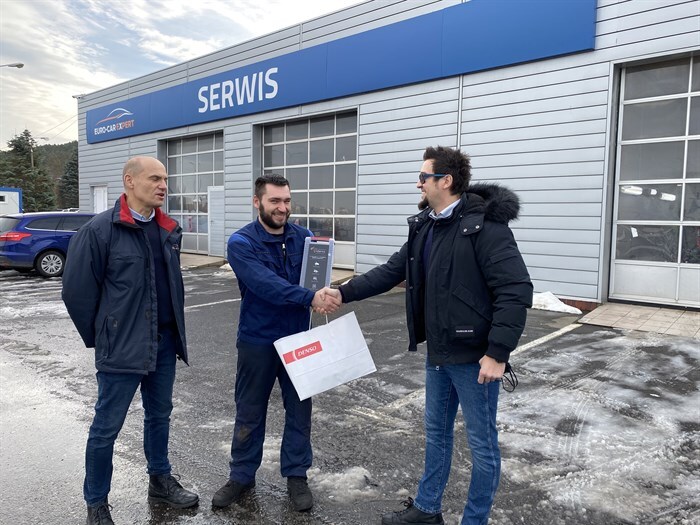 From left to right: Tadeusz Mielko, Service Manager, 1st place winner Sylweriusz Sidor, Euro-Car Expert in Gdynia, Poland, and Przemysław Maliga, Senior Sales Executive at Denso
DENSO has digitalized its online training courses to improve and test the knowledge of participants and award certificates and prizes to those with the top 10 highest scores. Once signed up on DENSO's e-learning platform, participants can access the new courses for 2021 as well as the courses from last year. The only difference between the two is that users can only gain points (known as D-coins) for the courses launched in 2021. If you missed some of the courses from 2020 (on alternators, starters, spark plugs, glow plugs and air conditioning systems), you still have a chance to complete them and receive a certificate.
Participants who are registered mechanics with garage or distributor profiles need to open at least one course and complete a final exam to appear in the 'League of True mechanics' 2021 ranking. Mechanics can collect 'D-Coins' by completing mini quizzes and the final exam. At the end, participants will receive a personalized certificate and are eligible for a reward if they feature within the top 10 highest scores. In the United Kingdom, the training program is accredited by the Institute of the Motor Industry.
DENSO's training platform has another huge benefit: it's available across most European countries and in 10 languages. DENSO plans to offer new courses, new certificates and prizes in the 2021 season, further raising the possibilities for technicians to progress with their careers.
Once the first 'League of True Mechanics' concluded, prizes were given out to those with the top 10 highest scores across eight countries in Central and Eastern Europe. Four winners from two countries agreed to share their feedback with prospective winners of the 'League of True Mechanics' 2021. Winners from Poland included Sylweriusz Sidor, in first place, Karol Niedbalski in second place and Maciej Kuleta in seventh place. Adding to the feedback was Mário Eliaš, first place winner from Slovakia. A full ranking of all 'League of True Mechanics' 2020 winners can be seen here.
Which course did you like the most? And why?
The winning technicians were split down the middle on their favorite DENSO e-learning course, with the Air Conditioning Systems and Starters and Alternators courses scoring two votes each. Two technicians commented that the Air Conditioning Systems course was 'professionally prepared and very accessible even to beginners', while Mr Kuleta had a broad interest in compressors and all components of A/C systems.
Meanwhile the Starters and Alternators course was favored by two technicians with one commenting that DENSO's course offered him the chance to 'un-learn' some of the incorrect information he'd been told in the past. Mr Sidor said, 'In my daily work I don't have often contact with them, so courses on this topic have greatly expanded my knowledge about their construction and the technology inside them.'
How do you rate the difficulty of the courses?
All four winners surveyed found that, even as experienced technicians, the courses were surprisingly challenging in places. One of the winners spoke about how his knowledge was tested: 'Sometimes it would appear that the questions were trying to trick me, but that's a good way of holding my interest.' Another winner said, 'I thought that the courses on starters, alternators and glow plugs were the most difficult – they really test your knowledge.'
How satisfied were you with the choice of DENSO product courses?
All winners and participants were aware of DENSO's part product line-up and the company's expansion into e-learning courses for technicians and parts professionals. When asked how satisfied they were with the choice of product courses, all four winners gave favorable reviews. One winner commented, 'DENSO have a very good selection of product courses,' and Mr Niedbalski said, 'all the courses were useful for deepening my knowledge'.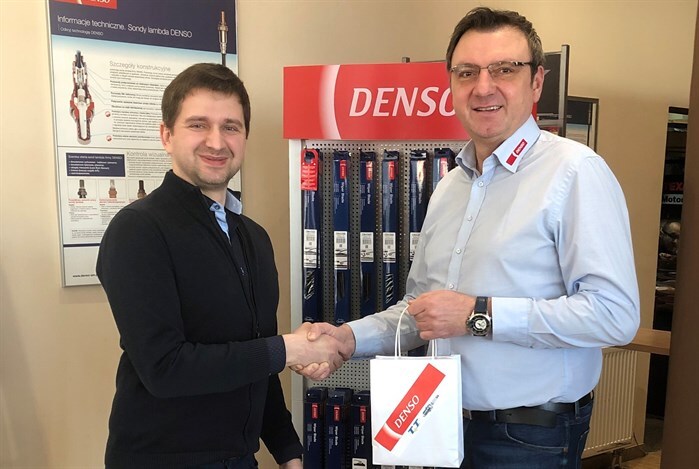 From left to right: runner-up Karol Niedbalski, Eurotim in Bydgoszcz, Poland, and Krzysztof Fabisiak, Sales Executive at DENSO.
Which topic are you most interested in from the point of view of DENSO products? What course would you like to add to e-learning for 2021?
These two questions gave us a new set of insights into what areas of their career currently makes technicians tick. It also shows the variety of interest when it comes to working on cars. Each technician had a different DENSO topic of interest.
These ranged from one preferring to learn about 'electronics, sensors and common rail diesel systems,' to 'air conditioning systems,' to 'engine management systems and different elements of ignition systems, to 'everything to do with electricity, alternators, starters, control computers, sensors and more.'
When asked if there were any courses they would like to see in the future, one of the winning technicians said they would like to learn more about common rail diesel systems, while another would prefer further learning on air conditioning systems. Lastly, Mr Eliaš said, 'If possible, I would like to see simplified courses on Electronic Control Units (ECU) and Exhaust Gas Recirculation valves (EGR).'
What was the biggest benefit of the League of True Mechanics for you?
All winning technicians agreed that the knowledge gained from completing DENSO's e-learning courses was the biggest benefit to taking part in the competition. One technician commented that 'the opportunity to obtain a lot of valuable information was the biggest benefit.' Another joked that, 'the biggest benefit was winning first place in the competition!' before adding, 'Gaining certificates and improving knowledge raises my qualifications and career prospects.'
Are certificates beneficial for you?
Certificates may be just a piece of paper to some, but to others looking to further their career, they represent proof of a skill that you can put into practice. One technician said, 'I consider certificates to be a confirmation of my knowledge and skills.' Another said, 'Certificates benefit me in building my future career.'
Would you recommend other mechanics to register for e-learning and test their knowledge? Any other comments?
All participants agreed that future applicants should register to take part in e-learning and to test their knowledge. One technician commented, 'I spent a few evenings doing these courses and you need to have a lot of self-determination.' Mr Eliaš said, 'It never occurred to me in a dream that I could succeed with such a renowned brand as DENSO, but I appreciate the acquired knowledge even more.' Another winner said, 'I strongly encourage you to register and take part in training and tests. Thanks to DENSO, everyone can increase their qualifications and expand their knowledge.'
Finally, the first-place winner was asked: what do you think about winning the main prize, the e-Videns vehicle inspection device?
Polish winner Sylweriusz Sidor said, 'The e-Videns interface can improve productivity in the workshop and increase periodic inspections of vehicles in car repair shops. I'm intending to use it as much as possible at work – the information can be used in the service department, to show our customers a complete assessment of their vehicle's condition.'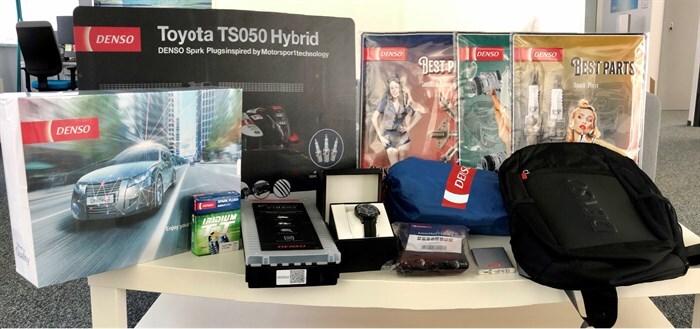 Are you up for the challenge? Sign up for DENSO's e-learning now and don't miss the start of the League of True Mechanics 2021!