Impressive one-two finish for TOYOTA GAZOO Racing in Sardinia
The World Rally Championship returned to Sardinia for its fifth stage, providing yet another stellar performance by the TOYOTA GAZOO Racing World Rally Team, who celebrated several achievements. It was the team's maiden win in Italy, provided another one-two finish, and extended the lead in the rankings for both the drivers' championship and the manufacturers' standings. It was another fantastic first place finish for Sébastien Ogier along with Julien Ingrassia and is the pair's third win out of five stages of the WRC 2021 so far. They now lead the championship by 11 points.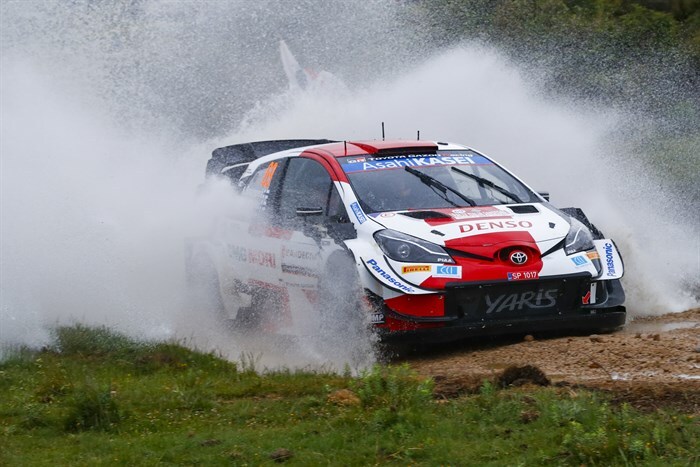 Stablemates Elfyn Evans and co-driver Scott Martin also extended the team's advantage in the championship by finishing in second place, 46 seconds behind Ogier. Sardinia was Evans' fourth appearance on the podium this season and the event provided strong performance from three of the Toyota Yaris WRC crews, who finished inside the top four.
Testing times from the beginning
The third best time in the power stage was achieved by Kalle Rovanperä, together with co-driver Jonne Halttunen who gained three bonus points, which extends Toyota's 49-point lead in the manufacturers' standings. However, while running in second position on Friday, the pair experienced further disappointment at Sardinia, having to stop after experiencing a technical issue on Friday. This follows retiring at the last event in Portugal, also due to technical reasons, and the pair suffering an accident at the inaugural Croatia Rally.
Rovanperä said: "Our aim today was to get as many points as we could from the Power Stage. Our starting position still made it a bit tricky, as there was some cleaning to do with only two World Rally Cars in front of us. I had to make my own lines in many places and lost a bit of time with that, but I tried to push a lot and we came away with the third fastest time. Overall, it was a really disappointing weekend from our side, but we just have to move forward. The positive thing is that the feeling in the car is good again after Portugal, and hopefully we can continue like this."
Managing to build on his ascension through the rankings, Kakamoto Katsua, TGR WRC Challenge Program driver, repeated his personal best finish of fourth place in Sardinia, which he also recorded at the last round in Portugal. Katsua took a steady approach on the final day on Sunday, due to his co-driver Dan Barritt feeling unwell because of dehydration. The heat in Sardinia added to the tough conditions, but Barritt was checked and released by doctors after the rally had finished.
Elfyn Evans was unable to repeat his first-place win in the last stage at Portugal, after water entered his car following driving through a watersplash. His second-place finish was secured, however, thanks to the buffer he had built earlier. Along with co-driver Scott Martin, Evans began the final day with a strong stage win in SS17 to increase his advantage over third place and was also fastest in SS19.
Evans said: "Second place is a great result that we definitely would have taken after our struggles on Friday morning. This morning we didn't have such a huge gap behind us, so it was good to be able to extend that advantage further, and it's probably just as well given what happened later on in the final stage. We seemed to take in some water, and I wasn't sure it was going to clear, but thankfully it did and it quickly went back to full power after that. It's a slight disappointment not to take any extra points from the Power Stage because of that, but at the same time I'm relieved to hang on to second place."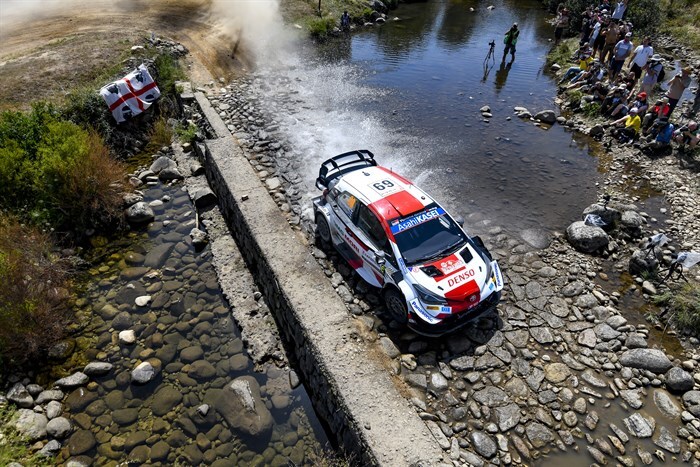 Hard work pays off
Ogier was first to open the road in Sardinia on the first day and his skilled driving enabled him to catch up from third at the end of Friday to being the rally lead on Saturday. Just like Evans, Ogier had some difficulties on the course, with a misfire following water intake during one section of the course.
Together with co-driver Julien Ingrassia, the pair maintained their lead throughout the final day's four stages to win their fourth Sardinia victory – and their first since 2015. Ogier scored two bonus points in the Power Stage after achieving the fourth fastest time and now leads the championship by 11 points over Evans, who is 18 points ahead of the driver in third place.
Ogier said: "This has been an incredible weekend for us. We could not have expected to come away from Sardinia a result like this. To have a one-two for the team, starting first and second on the road, is a fantastic achievement. If we can keep this rhythm up we can be confident, but of course it's never that easy."
The TOYOTA GAZOO Racing World Rally Team hope to further their success in 2021, as the FIA World Rally Championship heads to the iconic Safari Rally Kenya on 24-27 June. It will be the first time in almost 20 years that the WRC has held the grueling conditioning of the African gravel event on its calendar, which will make it an unmissable watch.