Getting Technical at Loughborough University
DENSO casts one eye on the future as it hosts the first 'DENSO Technical Challenge' at one of the UK's most respected universities in the field of mechanical engineering.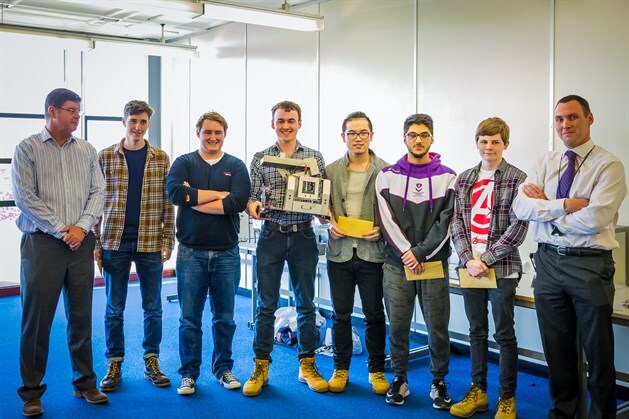 The first 'DENSO Technical Challenge' at Loughborough University took place last month, getting students involved in practical mechanical engineering.All 216 first year Mechanical Engineering students at Loughborough University took part in the challenge, which formed an integral part of their academic calendar.
Students were asked to design and build a "mechatronic device capable of placing six squash balls into egg cartons autonomously". The challenge was aimed to develop and promote skills in collaboration, creative design, problem solving, budgeting, engineering drawing, computer-aided design (CAD) and basic manufacturing skills.
The students were split into 36 groups of six and entries were judged on safety, performance, reliability and innovative design. The winning team (pictured) were awarded £300, whilst DENSO also donated 36 small wiper motors to demonstrate DENSO's leading technology.
Students were given an introductory presentation to the DENSO family; outlining DENSO's global, EU and UK profile. A Q&A session also gave an in-depth insight into the role of a DENSO engineer.
Phil Tomlinson, in charge of European Recruitment at DENSO, commented: "DENSO is passionate about engineering innovation for the future and creating a pipeline for young and ambitious engineers. Helping to cultivate the next generation of innovators, and introducing them to the DENSO culture, is a vital step toward this.
Find out more

Further details of DENSO Aftermarket are available online at www.denso-am.eu, on TecDoc or from your local DENSO Aftermarket sales contact.