AutoCare garage trade show sparks interest
DENSO took centre stage at the recent AutoCare trade show and piqued the interest of garages and GROUAUTO members alike.
DENSO received a warm welcome at the annual trade event in Milton Keynes, as AutoCare-approved Garages and GROUPAUTO members from across the UK gathered to explore the most recent developments from their suppliers.
As one of the largest aftermarket manufacturers, DENSO cut a prominent figure at the highly successful AutoCare garage trade show, which took place on the 15th April at the Arena MK. A wide array of DENSO products was showcased following a highly successful year, which saw the introduction of the Iridium TT Spark Plug.
The Iridium TT Spark Plug generated a great deal of interest from visitors, where people could take a look at the market-leading spark plug, which features the world's smallest electrode diameter at just 0.4mm and the highest iridium content of any spark plug. Visitors were also shown an Iridium TT installation video to showcase the ease of installation.
DENSO sales representatives were on hand to handle any technical questions on the DENSO aftermarket range, whilst the e-catalogue and registration number search tool provided a handy tool for any queries over OE products and vehicle applications.
Fatiha Laauich at DENSO Sales UK, said "These trade shows provide a unique opportunity for DENSO to communicate directly with our customers and highlight our latest innovations within the industry, something that we have become synonymous for. It also allows us to keep a finger on the pulse of the industry and listen to garages and distributors to offer the best service possible."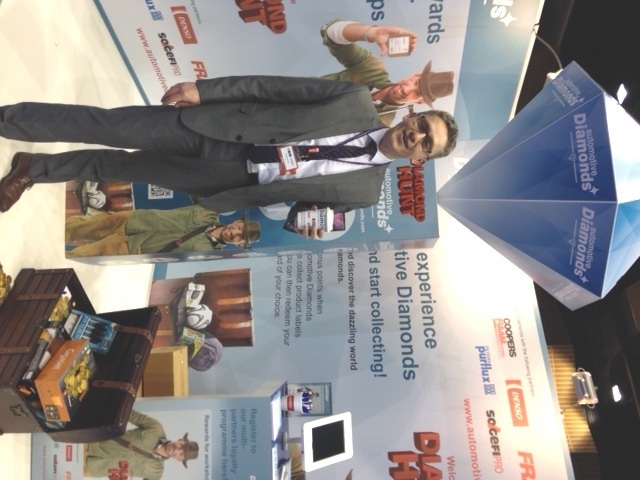 DENSO's multi-partnered, award-winning loyalty programme, Automotive Diamonds, was given its own dedicated stand and attracted significant attention; generating a great number of new registrations.
Garages were able to chat to one of the Diamonds representative and sign up on the day, and free vouchers for 250 diamonds were given away to enthusiastic show-goers.
Find out more
Further details of DENSO's aftermarket rangeare available online at www.denso-am.uk and www.denso-am.eu, on TecDoc or from your local DENSO Aftermarket sales contact.