DENSO wipers keep high speed trains safe
The Japanese bullet trains are significant feats of modern engineering.
Reaching speeds of around 320 km per hour (200 miles per hour) they not only push the boundaries of what is possible technically, but significantly reduce passenger travel times. With thirteen trains an hour operating each way on the Tokyo-Osaka route alone, the passengers on this route have had their travel time cut from 4 hours to 2 hours and 25 minutes.
In order to reach these speeds effectively and safely, the bullet train engineers select the highest quality parts to ensure that that these trains will perform reliably under extreme stress. DENSO's wiper blades are one of these products.
DENSO wiper blades already carry exceptional credentials for cars and are used across a range of models, including models such as the BMW X5 and X6, Land Rover Range Rovers, the Jeep Cherokee and all Ferraris since 2008. With three types of wiper blades available, these credentials, along with DENSO's reputation for good quality products were a deciding factor in choosing conventional blades for the bullet train.
DENSO's conventional blades and the bullet train
There are many features of this conventional blade that make it suitable for use on the bullet train. Its advanced design provides a wiping edge that effectively cleans the unique windscreen of the bullet train whilst travelling at slower speeds and its all-metal blade arm makes it durable throughout all seasons and weathers and strong enough to withstand high speeds.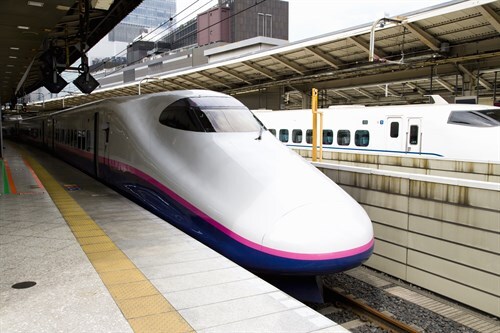 Bart Waaijer, Product Manager for Wiper Blades at DENSO Aftermarket, says that it is this durability and effective design that makes it so popular with car manufacturers. He says, "Its eight, evenly-spaced contact points mean that it can fit and clean a range of windscreens effectively without any modification."
"This means that whatever the car's make or model, the driver has a safe and comfortable field of vision in all weathers. The unique design and effectiveness of this blade not only makes it a perfect fit for the Japanese bullet train, but is why we used it as the basis of the design for our hybrid blades."
From conventional to hybrid blades
DENSO's hybrid blades are a direct innovation of the conventional blade. Built with an aerodynamic shell, the unique vertebra of the blade combined with rigid, graphite-coated rubber blade provides an efficient wiping performance on a range of car models, along with a durability that makes it resistant to dust, dirt, UV and other harsh weather conditions. The futuristic design is also unique for its low profile, which provides optimum visibility for the driver.
"Wiper blades are just one element of the bullet train," says Bart, "but without the high quality and effectiveness of DENSO wiper blades, they would not be able to run safely for as many journeys, or at such high speeds."