DENSO's Lambda Sensors - unparalleled innovation since the 1970s
Since the company first started producing Lambda Sensors in the 1970s, DENSO's continual innovation has helped drive engine efficiency to achieve better MPG and lower emissions, while delivery long-lasting quality to customers.
Lambda Sensors are among the most sensitive and critical components within a car's engine management system, monitoring the air/fuel mixture under idle, while moderating acceleration and cruising engine conditions.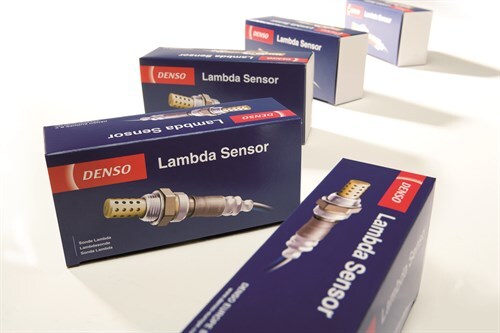 DENSO first started producing Lambda Sensors in 1977, and is now one of the world's leading suppliers, with several hundred million of its sensors measuring the air/fuel mixture in cars the world over.
Light duty Lambda Sensors started to appear on vehicles with the development of fuel injection systems. And in the early 90s, DENSO's Air/Fuel ratio sensor became a world-first innovation as vehicle manufacturers increased demands for better emission standards brought in from EURO 3 onwards.
While these earlier systems employed one Lambda Sensor in the exhaust system to maintain closed-loop Air/Fuel mixture control, today's emissions standards require engines to use up to as many as four sensors, monitoring exhaust gas oxygen content as well as catalytic converter efficiency.
In order to perform these functions properly, the sensors must closely adhere to OE standards. For example, a malfunctioning or incorrectly calibrated Lambda Sensor can negatively impact driveability, resulting in costly repairs.
DENSO's OE quality First Time Fit Lambda Sensors are designed to work with the vehicle's fuel injection system, Catalytic Converter and Engine Management System to help achieve the lowest possible output of environmentally harmful engine emissions.
Vehicles fitted with Lambda Sensors now account for more than 68% of the European car parc and as the automotive industry continues to tighten its emissions standards this figure is rapidly increasing.
EU legislation is now demanding a cut in emissions by 40% by 2030, and DENSO's Lambda Sensors offer all of the advanced technologies for workshops to provide OEM quality replacements to their customers, as well as enabling them to lower emissions and reduce fuel consumption while gaining optimum engine performance.
Lambda Sensors monitor the percentage of unburned oxygen present in the car's exhaust gases. If the oxygen content is too high or low the Sensor will transmit a voltage signal to the ECU.
To address the demand for OE-quality Lambda Sensors and continue its substantial growth, DENSO continually adds new parts into its Lambda Sensor aftermarket range.
Stefan Verhoef, Product Manager Lambda Sensors at DENSO Aftermarket explained, "DENSO's Lambda Sensor range began back in 1977 and now represents 68 per cent of the European car parc. The extensive range ensures that workshops and distributors can be confident that they are providing their aftermarket customers with the highest quality products while enhancing opportunities for their businesses."
Find out more
Further details of DENSO's Lambda Sensor range are available online at www.denso-am.eu, on TecDoc or from your local DENSO Aftermarket sales contact.