Glow Plugs range enhanced with five new Part Numbers
DENSO is enhancing its leading Glow Plug range, adding new part numbers for workshops and distributors
DENSO has reinforced its extensive Glow Plug catalogue for its aftermarket customers by adding five new Part Numbers, providing greater sales opportunities.
As a result, DENSO now has 210 new applications covering 3.6 million vehicles as well as a total of 18 new OE PNs cross referenced.
The new Part Numbers will allow sales staff and technicians to provide an even wider selection of high-quality replacement Glow Plugs, suitable for a number of major manufacturers.
The range expansion, which is available immediately, covers mainly applications from FIAT, Opel and Land Rover.
With super-fast pre-heating technology, DENSO's Glow Plugs range is one of the most efficient on the aftermarket; reducing engine emissions and noise, whilst manufactured to offer greater resistance to erosion in even the most extreme conditions.
Fanis Kapetanakis, Product Manager, Glow Plugs, at DENSO Aftermarket Europe Aftermarket, said, "Engine efficiency has never been so important for motorists, so its vital workshops and distributors are able to offer high quality replacement Glow Plugs. By further expanding our range we're making sure they're able to do that, and can make the most out of any sales opportunity."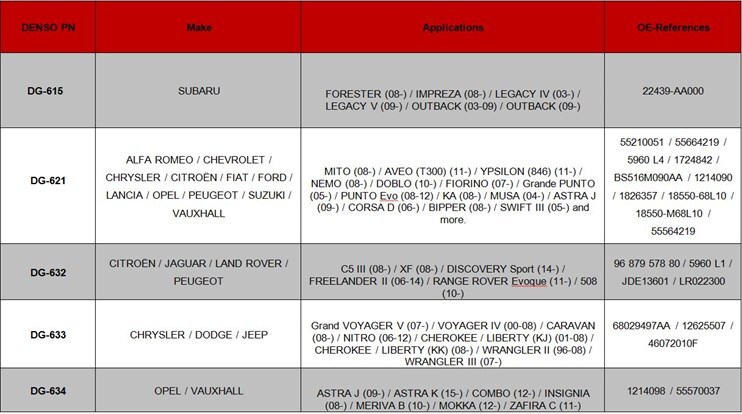 Find out more
Further details of DENSO's Glow Plug range are available online at www.denso-am.eu, on TecDoc or from your local DENSO Aftermarket sales contact.