Releasing the tension of the Opel Corsa A/C Compressor
DENSO's Compressor DCP20021 is now available with OE belt tensioner for improved durability.
As we head out of winter and into the warmer months DENSO, the world's largest OE supplier of A/C Compressors, has reinforced its extensive Compressor range by introducing the DCP20021K which combines the Compressor with the OE belt tensioner in one box. This Compressor will cover Opel Corsa, model D and E, petrol applications.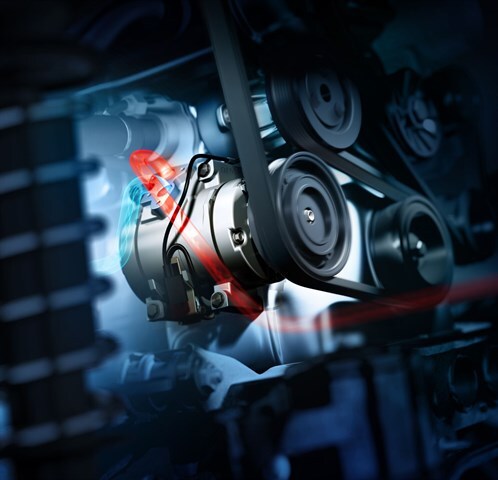 By introducing this kit, the risk of failure of the new compressor and related parts is decreased significantly. However, DENSO advises thoroughly checking the rest of the components within the auxiliary system, and replacing worn out components if necessary.
Flushing of the A/C system
The DCP20021(K) Compressor is not equipped with an oil drain plug, therefore it is not possible to adjust the oil quantity before the installation of the new Compressor. This means that the A/C system needs to be flushed with refrigerant after removal of the old compressor and before installing the new compressor, to remove all old oil so that the full pre-fill quantity (90cc) of the new DENSO Compressor can be used. Not flushing the AC system will lead to a possible liquid lock of the new Compressor which will result in a malfunction of the Compressor.
Richard Busscher - Product Manager A/C Compressors at DENSO EU - confirmed: "Being able to add the OE-quality belt tensioner to one of our best-selling Compressors is essential for workshops and distributors to improve durability, particularly as we enter the spring and summer months where the demand on the A/C systems is highest. Now it's time to be prepared for the season so please make sure you will have sufficient stock to avoid missed sales opportunities."
The DCP20021 (Compressor only) will remain available in the DENSO Compressor range.
Find out more
Further details of DENSO's Compressor range and Thermal parts are available online at www.denso-am.eu, on TecDoc or from your local DENSO Aftermarket sales contact.