DENSO challenges the next generation of automotive engineers to envision 2025
As a demonstration of our commitment to developing technology sustainably with a strong community ethos, DENSO recently hosted a six-week challenge aimed at students with an interest in automotive engineering. The challenge gave the next generation of engineers the chance to have their say on the technology that could grace our roads in the future as they set about designing the car of 2025.
Earlier this year, a group of students headed to DENSO's Aachen Engineering Center in Germany to experience the automotive world through the lens of an engineer as they participated in the DENSO Challenge, an exciting scheme designed to stimulate the interest of young people in the industry.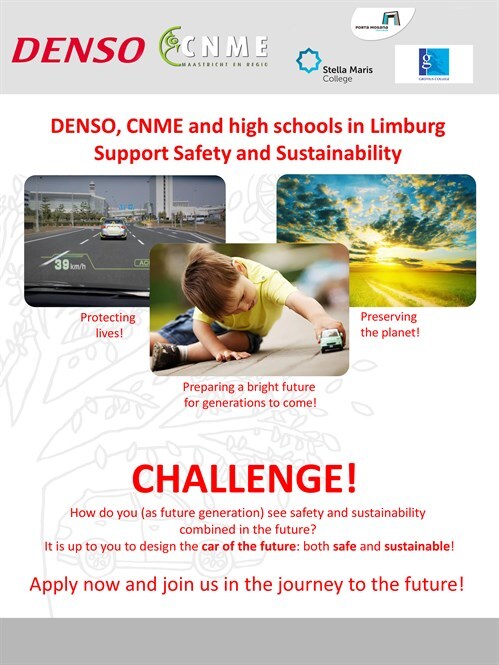 The DENSO Challenge, held in collaboration with Centrum voor Natuur en Milieu Educatie (CNME) and high schools in Limburg, The Netherlands, took place over six weeks and gave the students an introduction to the history and products of DENSO as well as the opportunity to develop a concept for the car of 2025, focusing on safety and sustainability.
The scheme aimed to develop the students' creativity and interest in the field of engineering, as well as the key skills of presentation and teamwork. This was put into practice both during the development of their ideas and at the end of the process where each group gave a 15-minute presentation on the benefits of their concept, focusing on its safety features and environmental credentials.
Could a car be powered by algae?
Reponses to the brief were varied and each team brought something different to the challenge. The first team, XL1, created a hydrogen-powered car concept while team Innovational looked at customisation and came up with a 3-D printed car skin which would enable the owner to effectively redesign their car and take personalisation to a whole new level. Other ideas included a car with a combination of solar and hydrogen power and a final entry from team SUBER took a different approach to alternative fuels with a biofuel derived from algae.
John La Pierre, Unit Head corporate communications at DENSO Europe commented: "We were delighted to welcome students to DENSO and, for many, to a future career in the automotive industry.
"All of the students who took part demonstrated a confident and mature approach to developing their ideas and we were very impressed with their considered responses to the brief of a car for 2025."
Selecting a winner was by no means an easy task
After the students had pitched their ideas, the judges then had the task of selecting a winner. In the face of some serious competition, team Innovational emerged victorious with their 3D-printed car skin and won the DENSO Challenge trophy as well as a voucher to visit the VfL Wolfsburg Football Museum and tickets for the Budesliga game VfL Wolfsburg vs VfB Stuttgart.
La Pierre added "As we continue to develop automotive technology in keeping with our sustainable vision and community ethos, we look forward to inviting more bright young individuals to gain valuable industry experience with us in the future."