DENSO TS Starter enables quicker engine restart and improved efficiency
TS Stop-Start Starter shaves 1.5 seconds off restart times, improving performance and the driving experience
DENSO has launched its first aftermarket Tandem Solenoid (TS) Stop-Start starter which enables the engine to restart while it is still rotating, shaving up to 1.5 seconds off the restart time compared to conventional Stop-Start starters.
The technology, derived from DENSO numerous OEM alliances, uses a unique dual solenoid to control the two functions of the starter solenoid independently, adding a spin-then-in capability, which allows the engine to be re-engaged and re-started by the starter motor. The TS Stop-Start starter is a perfect solution for specific applications, particularly for vehicles with automatic transmission.
Engine restart times are critical for vehicles with stop/start systems. A unique starting system is required to restart an engine after fuel supply is cut and before a vehicle comes to a full stop. The TS Starter has the capability of restarting even before the engine reaches zero rpm, meaning it doesn't need to wait for the engine to completely drop from idle speed to zero rpm like the conventional stop-start starter.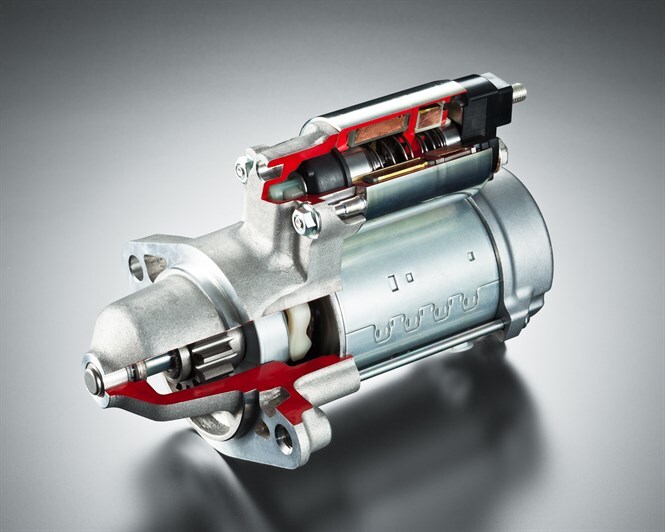 The technology is described by DENSO as a "Change of Mind" capable starter that allows the engine to restart with no noticeable lag time. Paired with a high-efficient alternator and battery, and deceleration regeneration system can improve fuel efficiency by more than seven percent depending on OEM specifications.
Benefiting from the its OEM experience and extensive research and development, the new TS Starter will enable the aftermarket to provide a cutting edge solution to its patrons, potentially increasing customer satisfaction through improved performance and reliability and fuel economy.
Ruslan Leontiev, Product Manager at DENSO Europe, said: "This introduction to the aftermarket is genuinely exciting and gives workshops and drivers an outstanding new option. Our TS Starter enables a reduction of 1.5 seconds off the restart time of the engine compared to a conventional Stop-Start starters as well as improving fuel efficiency by more than seven percent. The demand for the technology is derived from our work with many premium brands, highlighting our commitment to quality and a core focus on delivering the best service to our customers."
DENSO, which has been making starters since its foundation and working on stop-start technology since the 1980s, started full-scale mass production of starters for Stop-Start systems in 1999. Based on its technologies accumulated over many years, DENSO will continue to improve product reliability and make vehicles more environment-friendly.
Find out more about DENSO's Starters.