Aftermarket spark plugs with more power than OE! DENSO celebrates 10 years of TT Spark Plug technology
DENSO is celebrating 10 years of its patented Twin Tip (TT) Spark Plug technology. Unique to the independent aftermarket, DENSO's TT Spark Plugs are available in nickel and iridium, offering 87% car parc coverage throughout Europe. Since the introduction of Nickel TT in 2009 and Iridium TT in 2015, the range has continued to grow in popularity, with its market share increasing 25% year on year over the past six years.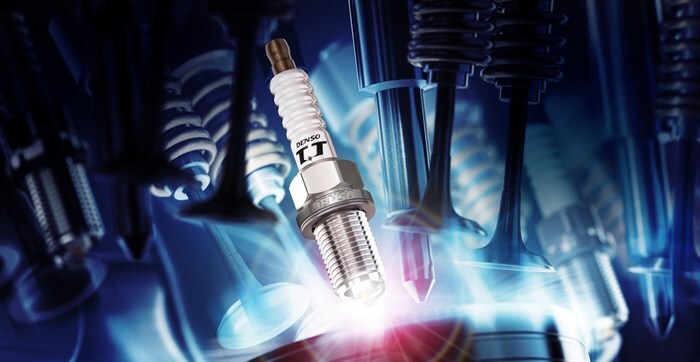 Setting the standard
Before revisiting the TT story, it is important to note that DENSO has been setting the standard for spark plug technology since as far back as 1959. DENSO has long-focused on providing OE-quality spark plugs to the aftermarket, with all ranges designed and manufactured in the company's own QS 9000 and ISO 9000 certified factories worldwide, with zero defects as standard.
DENSO Spark Plugs play an important role generating ignition within the internal combustion engine (ICE). Small but mighty, the vital components create a very small spark of electricity that is sent to the ignition coil to generate the high voltage required to ignite the fuel and create combustion. Spark plugs must operate in demanding conditions, withstanding incredibly high temperatures, severe pressure, rapid engine speeds and high engine loads. For outstanding performance every time, DENSO produces a range of spark plugs with electrodes manufactured using advanced materials which significantly reduce wear. Applying advanced technology such as DENSO's Twin Tip results in even greater performance over a longer period of time.
A premium solution for the mass market with Nickel TT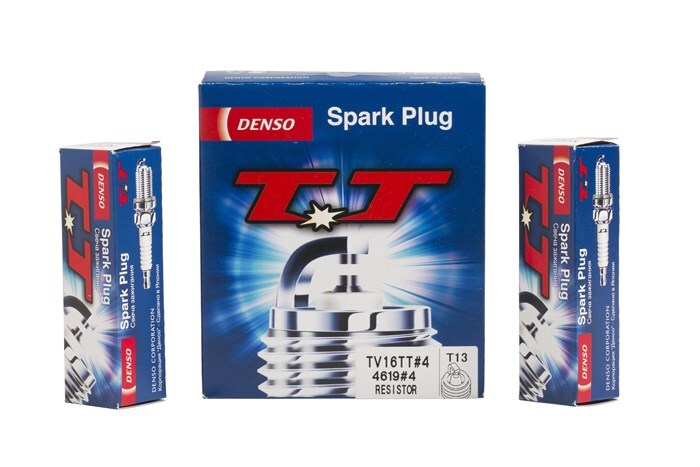 The first country to benefit from TT technology was Russia, with Ukraine and the UK quickly following. Introduced in 2009, the Nickel TT Spark Plug was inspired by DENSO's Super Ignition Plug (SIP) – the highest available spark plug technology on the market, typically used for premium engines with specific emissions and performance needs.
Most standard nickel spark plugs feature flat, large electrode surfaces, which can restrict the ability of the spark ignition to expand. Instead, DENSO's patented Nickel TT Spark Plugs feature a nickel centre and a twin protruding ground electrode with a slimmer diameter. The smaller electrode reduces the voltage requirement and creates a significantly more powerful spark which is stronger even when operating in lower outside temperatures. Thus Nickel TT Spark Plugs are able to provide a similar performance to a platinum spark plug, but for the price of a standard nickel plug.
DENSO engineers quickly realised that by developing spark plugs with more powerful technology than that used for OE products, it was possible to consolidate several part numbers and provide a smaller, yet wider-ranging portfolio for the aftermarket. Today, the TT range offers solutions for multiple vehicle makes and models, making it possible for independent technicians to access spark plugs that even outperform OE alternatives.
Superior spark power with Iridium TT
The TT range was bolstered significantly in 2015, when DENSO introduced iridium spark plugs. The Iridium TT features the world's smallest electrode diameter at 0.4mm, meaning that it demonstrates superior spark power and provides more effective ignition of air-fuel mixture. Furthermore, it features a unique iridium rhodium alloy with the highest iridium ratio in the market for the centre electrode, in addition to a bespoke platinum alloy for the ground electrode. This allows for an extended lifespan of up to 120,000 km – more than three times that of a standard nickel plug.
The Iridium TT is designed to deliver greater horsepower, improved torque and better fuel efficiency than any other spark plug on the market, resulting in faster starts, smoother idling and lower emissions, even when compared with OE-manufactured equivalent products.
Delivering OE-quality solutions
Today, the TT range is made up of a consolidated 35 part numbers, 16 for Nickel TT and 19 for Iridium TT, with 87% car parc coverage. The offering is designed to provide independent vehicle technicians with the highest quality replacement parts and upgrades for original fitted parts and as the company celebrates a decade of TT technology, it has plans to boost the range even further. Several new engine builds are favouring iridium material for spark plugs, prompting DENSO to continually expand the Iridium TT portfolio to cater for new applications. This is in addition to consistently reviewing the wider TT range and carrying out product development to fill any gaps that may exist in the car parc.
DENSO has always been dedicated to enhancing automotive technology and bringing OE-quality solutions to the independent aftermarket. The company's TT range is evidence of this, delivering the ultimate in spark plug technology to cover most vehicle makes and models.
It is this advanced technology that levels the playing field between independent workshops and franchised main dealer counterparts, enabling independent technicians to access the most cutting-edge vehicles parts, increasing customer confidence and loyalty.