NaviBridge: How a DENSO tool is making consumers' lives easier
DENSO continues to excel with the innovative smartphone application technology, NaviBridge, which enables drivers to send destination details and routes straight to their car navigation system. Compatible with over 1,000 GPS models, the ground-breaking app is the perfect tool for busy drivers who are short on time and need to reach their destination fast.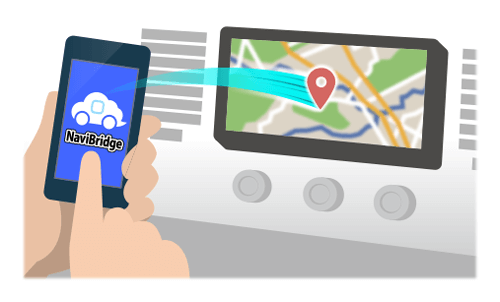 IMPORTANT NOTE: While DENSO Aftermarket is proud to share technical knowledge and experience, please note that the smartphone application technology mentioned in this article it's OE technology and is not yet available in our Aftermarket range.
DENSO is universally recognised as a supplier of high-quality OE aftermarket parts to various global markets as well as being an established world leader in developing advanced technologies in robotics, automotive air conditioning and energy-saving products, for both commercial and domestic purposes. However, did you know DENSO also possesses expertise in software interfaces and digital technologies which are put to use in several sectors? This article takes a look at DENSO's track record in consumer apps, specifically NaviBridge (known as NaviCon in Japan), a product that is finding favour among motorists.
An essential smartphone app for drivers
Smartphone navigation apps are rapidly replacing traditional built-in satellite-navigation systems in vehicles, as users look to consolidate their technology usage in one connected device. Car manufacturers need not worry, however; DENSO's NaviBridge can facilitate both.
The easy-to-use free mobile application, available for Android and iOS handsets with both USB and Bluetooth connections, allows users to share searched locations on their smartphone with their car navigation systems through a single touch, for seamless integration. Journey planning is made easier as drivers can start preparing before they have left the house or office and can conveniently sync the information with their in-car navigation system in record time. Having one less technology interface to deal with gives the driver safety and convenience benefits, allowing them to stay focused on the road ahead.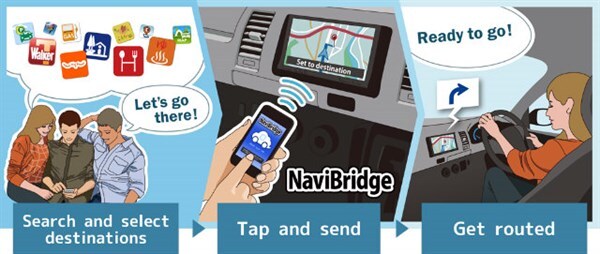 In development for many years
The technology isn't new to DENSO; development on the consumer app first began in 2008 when the company was honing its own car navigation operations. By 2012, DENSO was supplying the cutting-edge application to established automotive navigation developers. As of August 2020, NaviBridge is compatible with 1,026 car navigation systems, 25 million of which are on roads today in 58 countries worldwide.
Now you can do more and connect with others
Users can now benefit from the latest version: 6.0, which includes an updated and redesigned interface as well as the advanced ability to share location information with other users through email or messaging services.
Drivers can also update friends and family on their location and destination before setting off, and allow them to track their progress in real time. Additionally, there is a search function for traffic and weather news, plus the option to pin favourite spots and points of interest with a simple keyword term which can be saved to a bookmarks or contact list.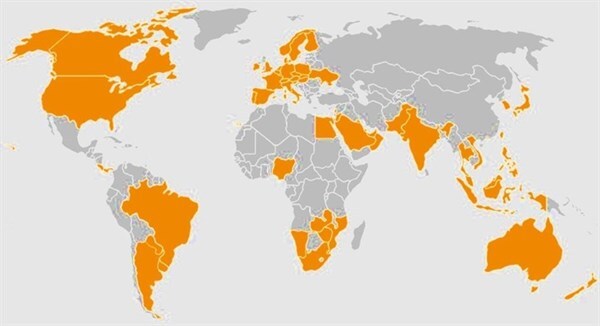 Areas where NaviBridge is provided
There's more in the pipeline
DENSO continues to develop the software, striving to provide updates which reflect users' changing lifestyles and meet the needs of smartphone usage in vehicles, all while securing a safe driving environment. DENSO's digital automotive credibility and innovation has a global footprint – not just in developing the aftermarket technologies you are already familiar with, but also in making consumer lives easier. The company is always working on ways to add to its knowledge base to pioneer new automotive technologies that benefit all parties – distributors, workshops, vehicle manufacturers and ultimately, drivers.
For more information on the application or to download it for yourself, click here: https://www.navicon.com/user/support/carnavi/maker_e/index_en.html