DENSO's electrification goals
DENSO currently supplies vehicle manufacturers with inverters that electric vehicles use to drive, turn and stop, battery electronic control units (ECUs), which monitor the status of their battery, and semiconductors, motor generators (MGs) and electric power steering (EPS) units that underpin their electrification systems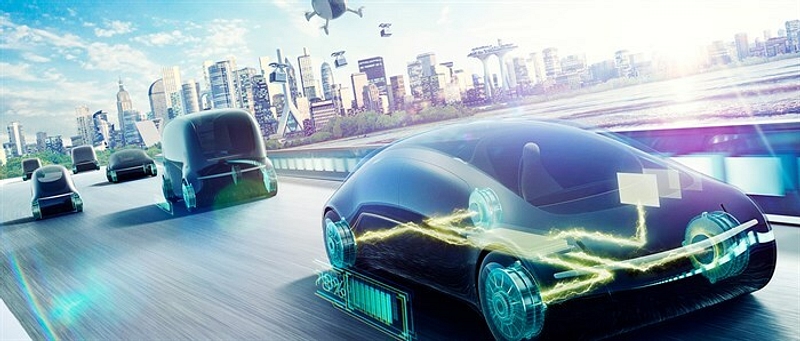 IMPORTANT NOTE: While DENSO Aftermarket is proud to share technical knowledge and experience, please note that the technology mentioned in this article is original equipment (OE) technology and is not yet available in its aftermarket range.
DENSO's efforts to reduce CO2 emissions
With future requirements in mind, DENSO has implemented measures and formulated an environmental policy, which it has called 'EcoVision'. In terms of mobility, the company supplies MGs and inverters to its customers, but is also researching the electrification of flying because future aircraft are expected to be increasingly electrified. So, different forms of electrification solutions, such as in-wheel motors, will be required.
In addition to mobility, DENSO is also involved on the energy front as it is developing biofuels and has been participating in field operational tests and experiments for wireless charging, as examples.
More recently, field operational tests and experiments have been conducted to capture CO2 and generate electricity, which is used to power battery electric vehicles (BEVs), which emphasises DENSO's ongoing commitment to reducing CO2 emissions.
The term "carbon neutrality" is now widely used and DENSO is working to reduce CO2 emissions in three main areas: manufacturing, mobility products and energy use, and it aims to realise carbon neutrality by 2035.
Focusing on mobility products, it was hybrid electric vehicles (HEVs) that were the first marketed with an electrification system, but electrification will spread to BEVs, fuel cell electric vehicles (FCEVs) and electric propulsion-powered aircraft. As a result, DENSO has developed components required for these vehicles in line with the spread of electrification.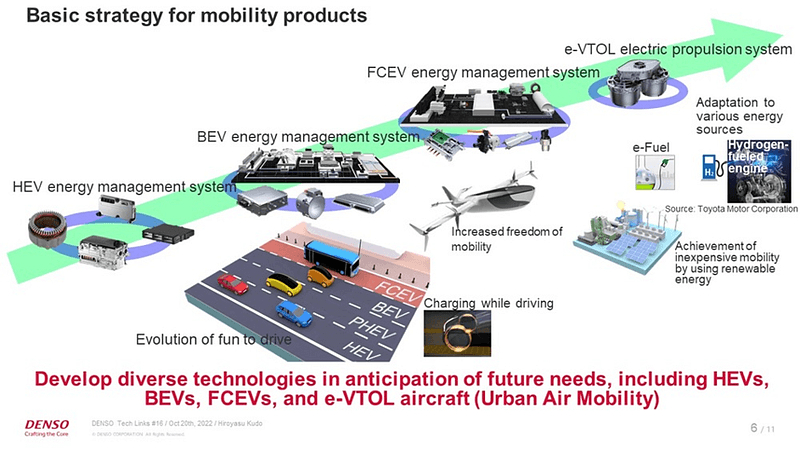 The strategy encompasses various possibilities, including the evolution of "fun to drive," application of electrification to flying, increased freedom of mobility and increased fuel options, such as e-Fuel (synthetic fuel) and hydrogen. Therefore the company's basic policy is to develop technologies that anticipate the diverse needs of the future.
As various vehicles including passenger cars, motorcycles, agriculture and construction machinery and trucks will be electrified, MGs, inverters, and battery ECUs are required for all types of electric vehicles, including HEVs, plug-in hybrid electric vehicles (PHEVs), BEVs, and FCEVs. These components are used for various applications in diverse environments, so the scope of development is determined in line with such differences. DENSO is committed to developing these required technologies and describes them as "core technologies."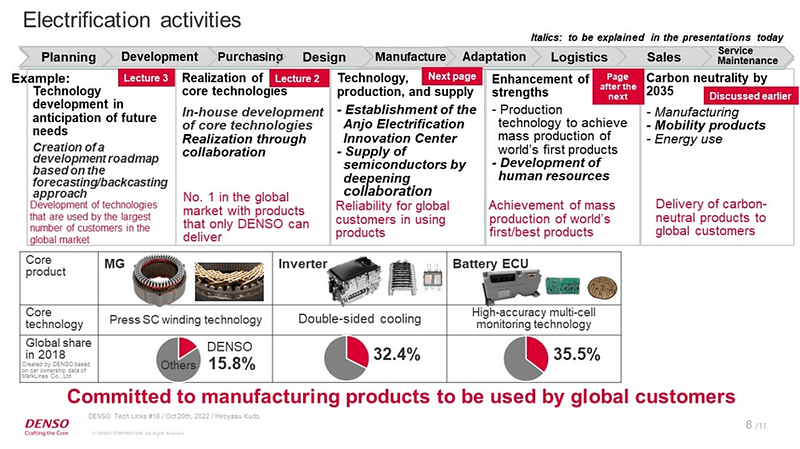 Electrification activities
There are various processes involved in making these products, including planning and development, purchasing of parts, as well as design and manufacture.
In planning and developing products, the priority is placed on developing technologies in anticipation of future needs, to deliver systems which will be used by many customers in the future. At DENSO, the term "forecasting/backcasting approach" is used to describe this concept. This underpins DENSO's planning and development of products and technologies, which will be used by the largest number of customers.
These technologies are developed based on a roadmap and DENSO is committed to developing core technologies in-house and with the collaboration of employees in various fields, such as engineering and design, including thermal and vibration design.
This is how DENSO has developed, and will continue to develop, its proprietary products. The company focuses its resources on technology, production and supply, so that customers can use these core technologies reliably and stably.
In terms of development, DENSO has established an innovation centre at its Anjo Plant to build a system for constantly improving its development capabilities. It has also acted in response to the recent semiconductor shortage and has made arrangements to ensure stable supplies by working more closely with semiconductor manufacturers and suppliers.
DENSO is committed to developing human resources to mass-produce the world's best products developed by DENSO employees, which contributes to carbon neutrality, through both the energy used for vehicles and in the manufacturing process. These activities have led to the development of core technologies and products that have been used by global customers and DENSO's continuous investment in these fields demonstrates its commitment to electrification.
"Power Electronics DOJO" and "Gishinden DOJO"
DENSO is also committed to develop human resources and has formulated the "Power Electronics DOJO" to train engineers and the "Gishinden DOJO" to improve the management and technical skills of technicians.
The Power Electronics DOJO aims to pass on technologies, spirit, and mindset from expert engineers. Lectures are given from the viewpoint of systems, so that engineers can understand the design concept behind the products they are involved with. It is important to use products, so a priority is placed on experience-based learning. Trainees can understand the requirements for engineers first-hand while sharing past failures. The spirit of the dojo is to "go and see for yourself", "improve your mindset and skills," and "achieve growth through friendly competition".
The Gishinden DOJO aims to conduct in-depth analysis of manufacturing technologies and skills. It passes on technologies and skills together with the mindset and "develops human resources who can play active roles". This is how DENSO develops human resources who can mass-produce the world's best products.
Further details of the DENSO Aftermarket programme are available online at: www.denso-am.eu