New robotics technology in the limelight at Automatica 2016
Last month, DENSO Robotics Europe exhibited at AUTOMATICA in Munich, Germany, the leading trade fair for industrial automation and mechatronics. The exhibition welcomed 45,000 trade visitors and 839 exhibitors from 47 countries with the latest innovations including the new HSR, Cobotta, Industry 4.0/IoT solutions and Safety Motion on display
A significant date for the robotics industry, DENSO Robotics marked this year's Automatica with a diverse showcase of new products; new additions include the 4-axis SCARA series and the Cobotta, the latter which being designed for specialised use in education and research. In addition to this, DENSO showed innovative solutions such as a new function called "safety motion" to make working around the robots safer as well as two ultra-fast 3D bin picking systems that enable the handling of unsorted bulk small parts and a flexible part feeding system.
HSR Robot Series
Brand-new 4-axis SCARA series
DENSO Robotics' newest addition to the HSR Robot Series features a completely revamped design, making it lighter, stronger, and more precise while also considerably boosting speed performance – particularly during prolonged operation. The robot sets a new benchmark for high-speed operation over extended periods.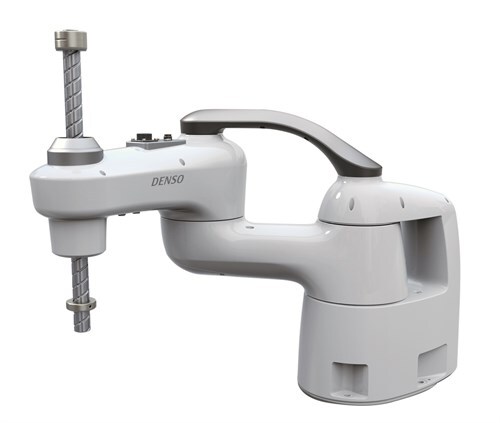 HSR Robot Series features:
Sustained high performance over long periods
Increased rigidity: each arm component manufactured to ensure maximum strength
Interlocking machine design and servo control to ensure effective vibration dampening
HSR Robot Series specifications:
Arm reach: 480, 550, 650mm
Max load: Up to 8kg
Mounting configuration: Floor, ceiling
Cobotta
Cobotta is a new series of small robots specifically designed for educational and research purposes. The series boasts open programming architecture, enabling compatibility with a broad scope of programming environments and languages. The prototype robot presented at Automatica has been conceived to work hand in hand with humans thanks to features like predefined safe speed and a soft and round-edges design. The new robot can handle small parts of up to 500 g and is suitable for so called "desktop applications" typically found in universities or laboratories.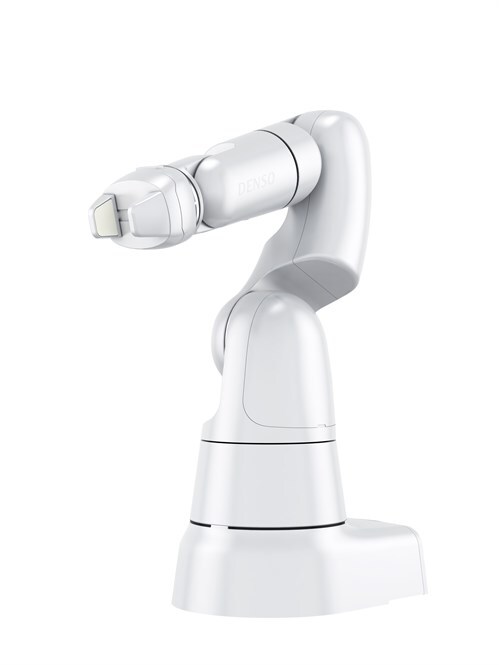 Cobotta specifications:
Arm reach: 310 mm
Payload: 500 g
Weight: 3.8 kg
Safe speed: 250 mm/s
Max. speed: 1000 mm/s
Industry 4.0/IoT readiness
New for this year's show was a demonstration of Industry 4.0 & Internet of Things (IoT) through a wide range of options for connecting DENSO robots to Smart Factory solutions and IoT. DENSO's robot controllers have been designed for integration with nearly any sort of factory automation devices, and software by using a so called middleware named ORiN.
Safety Motion
"Safety motion" is a new function included in the robot controller RC8A. This is a new function that makes work environments near robots safer. DENSO Robotics presented an example of this through a live demo. The system had three predefined virtual safe zones that were constantly monitored by two sensors; one placed at the bottom, and another one at the top. The zones were identified through different colours; green, yellow and red. Each zone represented the distance of an approaching individual. Green and yellow triggered speed reduction while red stop of the robot.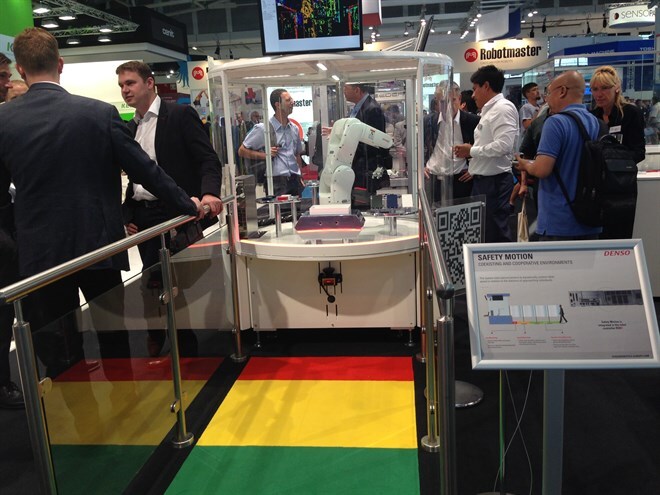 3D Bin Picking solutions
DENSO Robotics presented together with partner companies two ultra-fast 3D bin picking solutions for handling unsorted small component bulks. This solution is possible thanks to high-performance machine vision systems and DENSO robots.
3D Bin Picking features:
Reliable pick and place solution
Detection time of approximately 2 seconds
High rate of measurement with no loss of precision
EYEFEEDER®
The system consists of a vision camera, a part feeder system called EYEFEEDER® and a DENSO robot.
It is a system that is developed for fast, reliable and precise sorting of small items which uses a vibrating conveyor belt to enhance the scanning and picking of parts for further processes. It is particularly ideal for small parts being fed with a random orientation and in large quantities.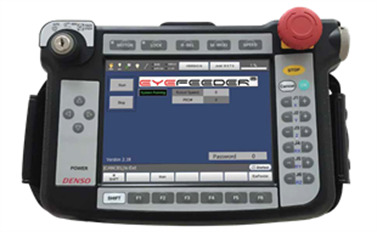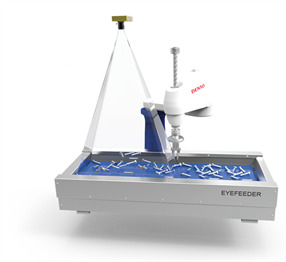 Alvaro Cruz Lermaat DENSO Robotics commented: "Automatica 2016 was an excellent opportunity to demonstrate the new additions to the DENSO Robotics range.
"The current line up caters for a wide range of industrial uses and embodies DENSO's reputation for outstanding quality and reliability and we look forward to helping more businesses find the right robotics solution in the coming months."
Find out more
Further details of DENSO Robotics can be found at www.densorobotics-europe.com