Driving the industry forward at the International Vienna Motor Symposium
DENSO led discussions on the future of hybrid powertrains, as industry and engineering experts gathered at the International Vienna Motor Symposium 2016.
Senior Director of EU Engineering at DENSO, Mr. Kenzo Yano, led discussions about the continued emergence of hybrid powertrains in a technical presentation on "Predictive Hybrid Powertrain Strategy" at the annual Vienna Motor Symposium.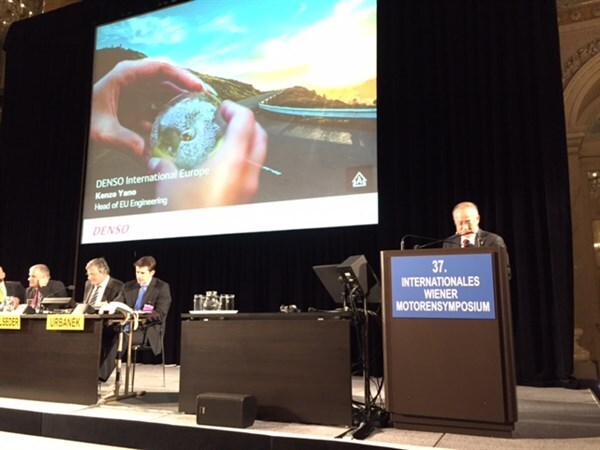 Mr. Yano's presentation, produced in collaboration with DENSO's European engineering research partner FEV, drew from DENSO's extensive automotive R&D credentials and automotive expertise. The presentation addressed the challenge for hybrid powertrain systems to enhance comfort with minimal fuel consumption. The presentation concluded that predictive Hybrid Mode operation and predictive cabin thermal management would deliver higher comfort whilst reducing CO2 emissions.
A shared vision for a cleaner automotive society
Mr. Yano commented: "The International Vienna Motor Symposium is one of the largest conferences of its kind, and shares a similar goal as DENSO - to create a cleaner automotive society.
"DENSO's research and development teams continue to strive toward a better automotive landscape, and these conferences provide the perfect opportunity for DENSO to contribute to the wider industry and work toward this common goal."
The annual conference took place from 28-29th April and welcomed nearly 1,200 visitors from across the automotive world to discuss a wide range of issues within the industry and the developments to combat them. The Symposium tackled a variety of topics including future legislation, drivetrain electrification, hybrid technology, CO2 reduction and exhaust emissions.
Find out more
For more information about DENSO's range of aftermarket products, please visit www.denso-am.eu or to find your nearest DENSO distributor or stockist, visit www.denso-am.eu/where-to-buy