Training on A/C Systems and Warranty Judgement in Saint Petersburg
Training in servicing A/С systems and compressor warranty judgement took place in Saint Petersburg on November 28–30, 2017. It was organized by DENSO Russia, in cooperation with DENSO Europe B.V.
The training took place at the ZevAvto service dealer location. Besides the local specialists, the training was also attended by ClimatProfi employees from Minsk and KTS employees from Krasnodar. The training consisted of three parts: theory of A/C systems, practice in servicing A/C systems and practice in compressor warranty judgement in case of a customer complaint.
DENSO Europe B.V. specialist in A/C systems Richard Groot prepared the materials about DENSO standards of A/С systems and their A/C components development.
During the training, Richard first explained theory about the functions of old and new A/C system components, A/C system operations and discussed the most common compressor failures and oil contaminations. In 99.9 % of all warranty cases, these A/C compressor failures are caused by poor maintenance and/or poor repair of the A/C system. During the practical part, he showed necessary equipment for periodical maintenance and correct service procedures. Warranty judgement training was scheduled for the last day. The participants had to be able to identify the root cause of the A/C compressor failures and provide a detailed report with a conclusion to the customers in the territory of the Russian Federation and the Republic of Belarus.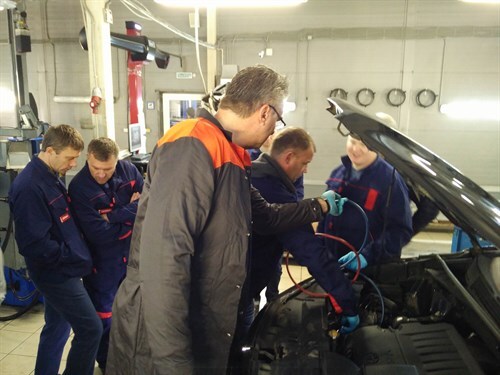 During the practical trainings, ZevAvto, KTS and ClimatProfi specialists demonstrated strong understanding of A/C systems operation and servicing principles. Training participants applied the methods of diagnostics, refrigerant & oil condition analysis by using the sight glass and correct vacuum and charging procedure, with refrigerant, using several vehicles.
The specialists were highly interested in methods of identifying compressor failures due to poor installation and or poor maintenance of the A/C system.
Richard explained the warranty judgement process step-by-step, to make sure all aspects, like the state of the suction and discharge ports, oil condition and pre-load of the compressor shaft, are checked and investigated, which helps to understand what was done wrong during a new compressor installation and what caused its failure.
"For highly skilled specialists, this knowledge is enough to issue a warranty report without dismantling a compressor. There are certainly cases when dismantling is necessary to confirm and document real damages of internal components. Therefore, each KTS, ZevAvto and ClimatProfi specialist practiced dismantling different types of DENSO compressors many times and determined the real cause of failure based on the information we provided," Service Engineer at Denso Rus LLC Anton Sidorov explained.
All candidates received a training certificate which proves they successfully participated in the special training. These specialists can now apply this knowledge in real life to perform diagnostics of (DENSO) A/С systems and respond to warranty claims in their regions – Krasnodar, Minsk and Saint Petersburg.
ZevAvto, KTS and ClimatProfi are now ready to service and repair (DENSO) A/C systems according to the DENSO standard and are be able to provide first class customer support for warranty judgement of claimed A/C compressors in their regions. It will improve customer satisfaction by reducing the lead time of the warranty claim, and together with a detailed warranty report, aide the customer's understanding of why the A/C compressor has failed.