DENSO Compressor range additions keep customers cool
25 new Compressors to join leading Air Conditioning catalogue
DENSO's outstanding Compressor range has reinforced its extensive catalogue, adding an additional 25 new Original Equipment Compressor part numbers.
Holding a 40% share of the global market for original equipment A/C Compressors, DENSO is the world leader in the market, selected by top vehicle manufacturers such as Audi, BMW, Fiat, Mercedes, Porsche, Toyota and VW. DENSO uses this leading OE expertise to provide aftermarket customers with the highest quality parts, developed and tested to OE standards.
This latest extension to DENSO's innovative A/C Compressor range provides distributors with an even broader selection of OE-quality Compressors. With an additional 120 applications for several major vehicle manufacturers, including Audi, Mercedes-Benz, Citroën and Peugeot, workshops are able to meet the growing demand for high quality compressors.
Richard Busscher, Product Manager Compressors at DENSO Aftermarket EU commented "Our Compressor programme is built upon a commitment to quality and a core focus on delivering the best service to our customers.
"The update ensures workshops and distributors will be able to provide the best compressor for a customer wanting the original, high quality product to ensure the most efficient and consistent cabin temperature under even the most extreme weather conditions."
The range extension brings DENSO's comprehensive total A/C Compressor programme vehicle application coverage to more than 2500 applications.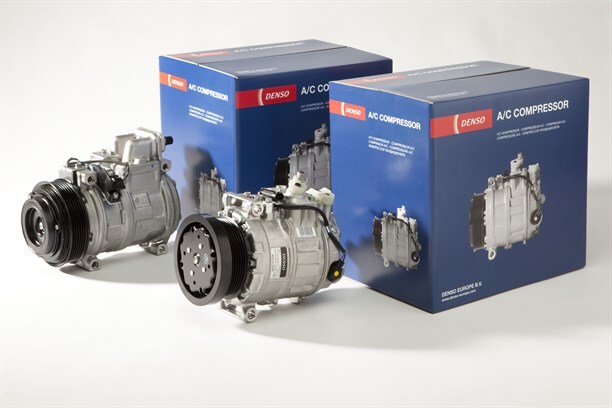 All DENSO A/C Compressors are new units and delivered as complete assemblies. DENSO's aftermarket compressor range is 100% OE with a guaranteed "right first time" fit. Operating efficiently with low noise and low vibrations to provide consistent levels of air conditioning, DENSO compressors always ensure a comfortable ride.
Find out more
Details of the continually expanding programme are also available online on compressors product page, on TecDoc or by contacting DENSO Europe B.V.'s Business Unit After Market on +31 (0) 294 493 493.